Wave takes dog, owner yells global warming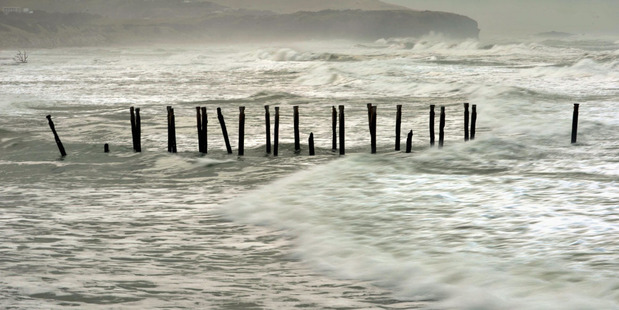 The beach at St Clair, Dunedin, in a bit of breeze. Photo ODT
On Monday came a story of blatant disregard of nature's power. A woman walks a small dog on a beach pounded by violent waves. A large wave swamps them and the dog is swept away.
Source: 'Rogue wave' sweeps dog from owner – Otago Daily Times
Passers-by watched in horror as a "rogue wave" surged up to engulf a woman and her dog walking on a Dunedin beach yesterday.
More rogue owner than rogue wave
"What the hell is that woman doing on the beach?" exclaimed a local resident. Then, sadly, the little dog was gone. Its owner had been heedless of the raging ocean.
But by Tuesday she had been tracked down and interviewed. Clearly too embarrassed to admit to negligence, she blamed climate change for the sad loss of her dog. Of all the diverse ills blamed on global warming past or planned, losing little dogs to the raging sea is the least credible.
Then the newspaper seeks comments from professors of earth science—following the practice of ringing the Met Office to confirm that it's raining. The professors prove reluctant to directly contradict the woman's stupid claim of global warming and instead make haste to corroborate it. Which turns an implausible claim into an unscientific, if heart-breaking, headline (you heard it here first):
Global warming kills your little dog too
A Jack Russell terrier swept under big waves near St Clair was a victim of rising tides and climate change, her owner says.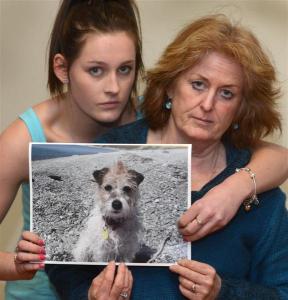 Dog-owner and daughter, consumed by sorrow, but newly recruited as special ambassadors for global warming. They hold a treasured photo of their missing dog Ali, who is thought to have been swept away near St Clair Beach on Sunday. Photo ODT – Peter McIntosh
Source: Swamped dog 'victim of climate change' | Otago Daily Times Online News
Opinion formed from scientific observation
"I'd never seen waves like this before; everything's intensifying. I think we've all been quite blasé about global warming. People don't like to say it's happening, but it is," said the upset owner. There's clearly no question of guilt, then, just global warming.
Cue first professor (geography, University of Otago), Mike Hilton, who was reluctant to give unqualified approval to the lady's feeble-minded suggestion but seems to sympathise with it. He said the waves had been "unusually high" at St Clair and St Kilda Beaches in recent days, due to low air pressure, an especially high tide and widely-spaced waves.
He said those conditions created a "perfect storm" for erosion, thus successfully linking Monday's sea conditions off Dunedin, rightly or wrongly, with one of the most horrific climate-related movies of the last 20 years—an association that was surely intended, though this was not the first erosion event there, as he admits.
Professor Hilton said the sea was "up to half a metre higher than it should've been," a curious assessment, for it was what it was, and who is he to say what it should have been? He does not directly assert that 'climate change' caused the higher waves, but given the context he definitely suggests it—and then leaves the question hanging. Good to see another impartial academic talking up the threat of postulated man-made global warming without making such explicit forecasts or giving such explicit causes that he might later be brought to task over them. Clever him.
Air cannot heat underlying water
Next he actually mentions climate change, saying rising sea level as a result of climate change was one part of the picture, but not the whole picture.
Of course it's not the whole picture, because at about 1.8 mm PER YEAR, or 180 mm (7 inches) PER CENTURY, you tend to overlook the effect of climate change when the waves are over 2 metres, not to mention the simple fact that none of that 180 mm is caused by anthropogenic global warming, dangerous or otherwise, because SCIENCE KNOWS OF NO MECHANISM whereby OUR ATMOSPHERIC EMISSIONS CAN, BY RADIATION ALONE, significantly WARM THE OCEAN. Sorry for shouting.
He said the "spring high tides" were now bigger than they were 100 years ago. "Not much higher – only 20cm or 30cm higher – but that can make a difference," he said. Perhaps it can, but not to the dog. Ordinary storm, ordinary dog, distracted owner. Nothing to do with spring tides or global warming.
"So, there's some element of climate change in what we experienced over the weekend." Yes, well, "some" doesn't scare us, professor, since the central, nay the entire question of climate scepticism is "how much". It's not about the possibilities, it's about the magnitude. Anything is possible, but tell us how big it will be. You're not telling lies, but you're just not telling the whole truth, mate.
In the future, "the climate change element to these events is going to get bigger and bigger," he said. Let's all hope it finally gets big enough that we can detect a human influence. Then perhaps our scientists will stop making outrageous suggestions and instead talk plainly.
"But most of it is just a coincidence." That's good, I commend him for that; now maybe a few people might stop connecting every single weather event with 'climate change'.
SREX – tropical cyclone frequency will decline
Now let's visit VUW to check in with James Renwick.
Victoria University of Wellington professor of physical geography James Renwick told Radio NZ that extreme weather events posed a risk to New Zealand's coast. Well, they always did and they always will—though I note that the IPCC's report on extreme weather events, SREX (pdf, 19.5 MB), gives no reason to suspect more frequent storms here or anywhere. It expresses confidence in "a reduction in the numbers of mid-latitude storms" and does not think tropical cyclone activity will increase—in fact it considers that global tropical cyclone frequency will decline.
Of course, this is James's field, so he knows this. I wonder why he didn't mention it? Too technical or too revealing?
"We're a long, narrow country with a lot of coast and a lot of people live near the coast … and if one thing is for sure, it's that sea levels are rising."
Hey, that's true! The country is long and narrow, many of us do live on the coast and the sea level is still rising. We can't fault the professor on that, eh?
Mutely imparts falsehoods
He goes on: "It does pose a very serious problem. Over time we do have to look at moving back from the present coastline because the coastline is going to move inland – that's the reality."
Thus he hides the truth, he deceives, he exaggerates and he mutely imparts falsehoods. We're left undeniably with the impression that the problem of sea level rise is serious and imminent, the move inland is imminent and because it's our doing we could prevent it—when nothing could be further from the truth.
Sea levels are rising slowly, but from natural, not human causes, because our minute emissions of gas cannot warm the ocean, and for 20 years there has been no global warming from any cause; it's reasonable to suppose that total human emissions have some influence on the temperature of the air, but so far that influence has not been quantified and scientific opinion on its likely magnitude varies widely. The IPCC waffles ambiguously about an "air-sea energy flux" to attribute some ocean warming to our emissions but cites no science to explain a mechanism. Observations so far show that substantial oceanic heating is accomplished only by the sun, geothermal activity and nothing else.
Prof Renwick uses the expression 'over time'; I wonder what sort of period he means? One analysis concludes that the period over which a rise of about 180 mm per century could become a "very serious problem" varies enormously according to location but might be as soon as 200 to 400 years from now (Treadgold, R., 2015, personal communication). At least that gives us plenty of time to worry, even if not to act.
Wicked witches? More like wicked scientists. Pretend for a moment that we're your students, Mike and James, and that we're prepared to learn: speak plainly.
Hits: 413