— by Barry Brill, Chairman of the NZ Climate Science Coalition
2017 was a year of extreme weather, especially in the USA with Hurricanes Harvey, Irma, and Maria devastating swathes of the country, while western states suffered from a severe drought and consequent bushfires. The year ended with a record-breaking "deep freeze".
New Zealand also had its weather travails, with NIWA reporting a "marine heatwave", bringing rainfall records, accompanied by heavy flooding, to parts of the South Island.
Some elements of the media hold the view that such events are a product of Climate Change. They contend that anthropogenic global warming (AGW) has already become "dangerous".
The media use the term "Climate Change" in the specialised sense of the definition in Article 1.2 of the UN Framework Convention on Climate Change (UNFCCC):
"Climate change" means a change of climate which is attributed directly or indirectly to human activity that alters the composition of the global atmosphere and which is in addition to natural climate variability observed over comparable time periods.
The objective of this Treaty (set out at Article 3) is to stabilise the level of atmospheric concentrations of greenhouse gases, so as to "prevent dangerous anthropogenic interference with the climate system". (emphasis added)
The hypothesis
There is a possible (but strongly disputed) chain of causation between the world's current level of human-related emissions of greenhouse gases ("Emissions") and, say, a hurricane in Puerto Rico. The links in this chain are claimed to be:
Emissions have increased the atmospheric concentrations of CO21, which have in turn contributed to an increase in global average2 surface temperatures (Warming)3 of up to 0.5°C since the 1950s.
IF the September 2017 sea surface temperatures (SSTs) in the tropical Atlantic were materially4 higher than normally appears after an El Nino5, then: (a) Warming might have contributed to those SSTs; and (b) the additional energy might have contributed to the intensity of Maria, to the extent of that excess.
IF Warming has caused eustatic sea level rise to accelerate since 1993, this might have exacerbated the Maria storm surge (by about 2 centimetres).
Where is the evidence?
Evidence does not, and cannot ever, show that any particular weather event is attributable to Emissions. Weather is a chaotic non-linear system which is caused by unpredictable interactions between a plethora of influences. Lorenz famously posited that a tornado might be the outcome of a distant butterfly flapping its wings a few weeks earlier.
Most scientists accept that Warming is a macro trend that cannot logically be related to any single local occurrence.
What are the trends?
It is often claimed that causation can be inferred from correlation; i.e., it is assumed that the frequency or intensity of certain types of events (e.g., droughts) have recently trended upwards in lockstep with observed Warming trends. But those assumptions are usually found to be baseless, when the scientific literature is consulted:
Globally, the Accumulated Cyclone Energy Index—which measures the combined intensity and duration of all cyclones (or hurricanes) in all three tropical oceans—is currently running 20% below its long-term average. In fact, the index for 2017 was less than half of normal cyclone activity for the Southern Hemisphere.
A 2017 study in the Journal of Hydrology by G.A. Hodgkins of the U.S. Geological Survey concluded that the number of major floods in natural rivers across Europe and North America has not increased in 80 years. Globally, too, floods have decreased in recent years. (Wall Street Journal 12/01/2018).
A study published in 2017 by Qinjian Jin and Chien Wang of MIT in the journal Nature Climate Change reported that the Indian summer monsoon has strengthened in the last 15 years, and that since 2002 monsoon rainfall has increased significantly.
The number of wildfires in California has actually been declining for 40 years, according to UCLA's Jon Keeley, a leading researcher on the subject. A review published in 2016 by Britain's Royal Society documented that the global area burned by wildfires has also declined in recent decades.
As for drought, a comprehensive database published in 2014 in the journal Nature found that the proportion of the world suffering from abnormally low rainfall has slightly declined since the 1980s.
On average, the globe suffers some 325 catastrophic natural disasters a year, but last year (through November) they were down to around 250, according to the Centre for Research on the Epidemiology of Disasters at the University of Leuven in Belgium. A third fewer people were killed by climate-related hazards, according to the Centre's International Disaster Database.
Dr Roger Pielke Jr, a world-leading researcher in this area, has demonstrated that the annual costs of weather disasters (data from Munich Re) as a proportion of global GDP (data from the UN), have been declining from 1990 to 20176. The highest year in that period was 2005 (Katrina) with 2017 next. His paper includes an illuminating graph:
The literature suggests adverse weather effects are unlikely to occur for some decades. Richard Tol's The Economic Impact of Climate Change (pdf, 206 KB), summarising the 14 peer-reviewed studies of the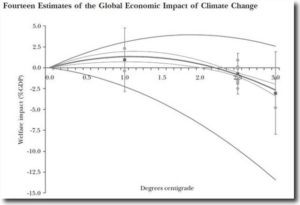 welfare effects of Warming, concludes that its net effects are initially beneficial and will not begin to produce adverse impacts until Warming exceeds 2.2°C:
The great majority of countries have ratified the Paris Agreement of 2015, which refers to averting the "threat" and "risk" of Climate Change, and seems incompatible with the hypothesis that those threats and risks have already been translated into real events. The Agreement carries the promise that dangerous AGW can still be averted if collective efforts succeed in "holding the increase in the global average temperature to well below 2.0°C above pre-industrial levels." The average temperature was then only 0.85°C above pre-industrial levels.
What is the authority?
The fallacy of appeals to authority dates back to Aristotle and is scorned as argumentum ad verecundiam by logicians. The Royal Society's famous motto – Nullius in Verba – urged members to "take nobody's word for it", because science should always be based on evidence. However, when there is no evidence (as in most climate science) it is natural to resort to the best judgment of experts.
The model-driven science of Climate Change is heavily politicised and diverse views on many of the key issues are promoted by activists and lobbyists of every hue. A very diverse spectrum of views appears in the scientific literature and an individual climate scientist can readily be found to testify to any angle a journalist might prefer to pursue.
However, climate-related policy-making, at all levels, generally regards the consensus opinions set out in reports of the Inter-Governmental Panel on Climate Change (IPCC) as the authoritative source of scientific advice. The common acceptance of this AR5 consensus is widely seen to be essential in order to make progress. It is referred to as the "mainstream" or "orthodox" scientific view.
On the physical science, the report of Working Group 1 (WG1) in the Fifth Assessment Report (AR5) of 2013-14 is the most recent authority. The many authors of WG1 are quite clear that neither hurricanes nor droughts ought to be attributed to Warming:
In some aspects of the climate system, including changes in drought, changes in tropical cyclone activity, Antarctic warming, Antarctic sea ice extent, and Antarctic mass balance, confidence in attribution to human influence remains low due to modelling uncertainties and low agreement between scientific studies. (10.3.1, 10.5.2, 10.6.1)
Similar comments are to be found in WG2 (2014) (pdf, 98MB), which deals more closely with the weather impacts of Warming, and in SREX (2012), the IPCC's 582-page special report on management of extreme effects.
Conclusion
Climate scientists, meteorologists, economists and Governments appear to have arrived at a rare consensus – albeit by different paths – that recent extreme weather events can not be attributed to human activities.
They should combine forces to fact-check those members of the media who find it too difficult to pass up the lure of a dramatic story.
---
1 "CO2" is used as shorthand for the carbon-dioxide-equivalent of all greenhouse gases.↩
2 Those climatic regions that become warmer will exceed (in area and intensity) those that become cooler. The rate of Warming will vary by region.↩
3 WG1 found that more than half of the observed Warming during 1951-2012 (0.22°C+) was due to human influence.↩
4 SSTs causing hurricanes are 30°C+, so the average Warming of 0.5°C would be an increase of only 1.7%. However, most Warming is observed in high latitudes, so average tropical Warming would be less than 1%.↩
5 There is no evidence that this was the case. The 2016-17 El Nino released record quantities of heat.↩
6 Loss trends (nominal) are explained entirely by societal change.↩
Hits: 1007