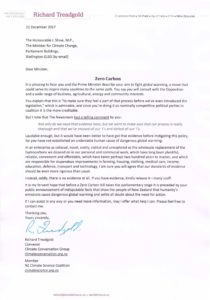 Here's a letter I sent yesterday in our name to the Minister for Climate Change, James Shaw.
It opens what could be a lengthy campaign. We will ask the top climate-anxious institutions in New Zealand the same thing: what is the proof of a dangerous human influence on global warming?
At the same time we will present public demonstrations of the legitimate doubts about climate science as advocated by the IPCC, as of course the CCG has been doing for over ten years, but my hope is to begin public meetings again as well.
Our target is the government, which must stop putting our tax money into the perfectly useless endeavour of controlling the climate. Of course, only the electorate changes the government's mind.
Though of necessity the scientists must supply the evidence—whatever it is, if it even exists—they are not our target, for it's not their hands on the rudder of state, they just talk to the skipper, or the steering committee, as you please.
But so do we.
One last word, to those who think we're barking up the wrong tree (or just barking mad): if you believe in dangerous man-made climate change because of the evidence, what is it?
Hits: 1770