Rising but not dangerously
Some say our arrogant, relentless use of coal, oil and gas dangerously heats the atmosphere, which in turn heats the ocean and raises sea levels.
The worry-warts were whinging about it in the New Zealand Parliament the other day, demanding we outlaw building near the beach because coastal houses will fall into the sea in 2050.
Some of us politely question the possibility of such a sharp rise in sea level because it denies the long-term trend. For 6000 years sea level rise (SLR) has been steady at about 1.8 mm per year (180 mm per century). Tide gauge readings since 1870 show no change from this.
When will this extraordinary rise begin
But the Commissioner for the Environment, Dr Jan Wright, echoing the IPCC's AR5, predicted in her 2014 report Changing climate and rising seas: Understanding the science that for the next 30 years SLR will increase to 10 mm per year. In other words, it will suddenly surge to five and a half times the long-standing rate.
I examined that report and exposed some of its errors in Commissioner Wright's wrong, Part 1 and Part 2. Since there's no sign of acceleration, it raises the question of when the rise will begin. It's easy to show how extraordinary the prediction is.
Here's a graph that compares two simple facts: the underlying trend of sea level gauges over 150 years and the wild prediction given by the Commissioner, who apparently thinks, against all reason and without evidence, that at some unstated time the red line will magically supplant reality. But if nothing intervenes to change the rate of SLR, it will generally follow the blue line.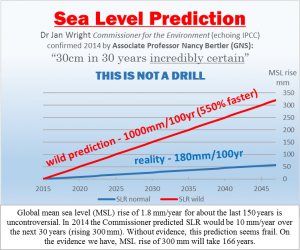 An important question about this ocean warming is how the tiny amount of air heated by our carbon dioxide emissions can radiate enough thermal energy to significantly heat the water. What is the physics of that? Our accumulated emissions make up only about 11% of 400 ppmv, or 44 parts per million by volume of the atmosphere, and it's implausible that those few millionths could trouble the climate or threaten our survival.
The problem with accepting this ostensible heating from above is that no published paper has described a possible mechanism for such heat transfer. So science has no knowledge of its magnitude, yet the UN accuses Western civilisation of raising global sea level by this means.
The IPCC must try harder than this
Nobody has observed the process. Nobody can describe the amount of warming it causes. It's reasonable to suppose that some warming of the water occurs, but significant heating is inconceivable. If you differ, please describe for us the mechanism of heating.
The IPCC expects to persuade us to close power stations, endure blackouts, cap oil wells, destroy airlines and scrap steel mills to prevent dangerously heating the sea. But they'll have to try harder than this.
Climate activists assert loudly that our blast furnaces and SUVs have caused extra sea level rise, yet tide gauges show no sign of it. For the last 6000 years there's been nothing but a steady natural rise, and a study of tide gauge records from 1880 shows no acceleration.
Rough comparison with hair dryer
So, we don't understand how a little mildly warm air could significantly heat the ocean and we can't detect the acceleration in SLR that was predicted years ago.
Here's a rough comparison. A hair dryer is vastly hotter than our CO2 emissions. However, you can forget about getting anything resembling a warm bath by waving it over cold water. You'd do a lot better just to toss the plugged-in dryer into the cold bath and jump in after it. The trace gas we left in the atmosphere has no chance of warming the water.
The IPCC says global warming for the last hundred years was about 1 °C, with human influence about half of that, so any effect OF OUR EMISSIONS on sea level is related to only 0.5 °C, which must be ludicrously small. The IPCC claims that 44 ppmv of the atmosphere is radiating enough thermal energy downwards to dangerously heat the ocean, though it's coming from CO2 molecules that have warmed only 0.5 °C. The argument is less than compelling.
IPCC vague on the air warming water
Of all the elements of climate science that deserve research, examining the possibility of human-generated CO2 molecules radiating significant thermal energy into the ocean must be at the top of the list. When you look into the boundary between air and water you learn that water exerts an overpowering influence on air temperature. Air warms or cools accordingly as it passes over water or ice. The influence is not the other way around.
The IPCC AR5 report (2013) doesn't tell us how the air warms the water, referring to it only vaguely. Like these references from WG1AR5 Chp 8, p.712 (emphasis added).
Global Temperature change Potential (GTP) accounts for the climate sensitivity and the exchange of heat between the atmosphere and the ocean.
"The GTP values can be significantly affected by assumptions about the climate sensitivity and heat uptake by the ocean." Does that refer to heat uptake or assumptions someone has made about heat uptake? So, in the absence of scientific knowledge of the air-to-water heating process, just when the general circulation models should have solid, reliable knowledge they come up empty.
Speculate, observe – hey, they're different
Chapter 8 also says:
The formulation of the ocean response in the GTP has a substantial effect on the values; thus its characterization also represents a trade-off between simplicity and accuracy.
In other words, according to whether they speculate or make observations, they get different results — though you don't have to be a scientist to work that out. Let us earnestly hope that the IPCC leans more to accuracy than simplicity.
By coincidence (or was it?) I noticed that, just the day after the recent climate questions in the House, Dr Wright addressed the Zealand Planning Institute's annual conference: "We are certain that the sea is rising and will continue to do so for centuries," she said. "If we stop emitting greenhouse gases today, it will continue to rise for years to come."
The sea is rising, yes, and it may well rise for centuries, but that has nothing to do with emitting or not emitting greenhouse gases. For the sea was rising long before we began burning coal and oil. Though our emissions are at historical highs there's no change in the rate of SLR, which means there's no connection between our emissions and SLR.
Socialists have ripped out the heart of science
Dr Wright implies that the sea is rising because its temperature is rising. But it's quite hard to be sure that its temperature is rising, because the ocean is vast and complex. There are 3500 Argo floats collecting data including temperature. But each one is alone in hundreds of cubic kilometres of ocean and takes measurements in that space for just a few hours every couple of weeks. We just don't know what the trend is.
Examination of a dozen or so temperature graphs in the various ocean basins eliminates suggestions of a rising trend. All are highly variable, most seem flat, some trend down in recent years and some trend upwards.
It's reasonable to conclude that the sea will indeed continue to rise for many years, whether or not we stop emitting any kind of gas — such as the hot air that emanates from the Ministry for the Environment.
As we untangle these green socialists' unscientific, anti-industrial, hegemonic dissembling that man-made warming is dangerous we fear that they've ripped the heart out of science and threaten the glorious improvements of our last 300 years.
* Kiwis are internationally renowned for saying "yes, no".
Hits: 127