Private prejudice
The Parliamentary Commissioner for the Environment, Dr Jan Wright, published a report last month, Changing climate and rising seas: Understanding the science (pdf, 2MB). While reading it I marked more than a hundred places where her evidence or reasoning is questionable. This post discusses some of those.
The commissioner's errors cause concern—just as errors from any prominent public servant[1. Dr Wright is highly paid. The Vote for the Parliamentary Commissioner for the Environment in 2014/15 provides for an annual remuneration of $296,000 in a total departmental budget of $3,258,000.] cause concern—and her agitation for policy change means she sides with environmental activists against at least half our population, and possibly even three-quarters of our population—those who are not persuaded that global warming is a problem. You can see that this arises directly from her personal views, for, with her opening words, the commissioner admits that her belief in dangerous anthropogenic global warming (DAGW) has been around for 35 years:
I first heard about climate change in 1979.
But she appears oblivious to that potential bias when she immediately presents it as a virtue:
During my seven years as Commissioner, I have consistently said that climate change is the biggest environmental issue we face.
So, knowing where she stands, we are hardly surprised to witness her unabashed activism or her staunch resolve to press on regardless of the evidence. Under the legislation her position is established as an "independent" officer of Parliament and "the acceptance and effectiveness of the PCE's advice depends [sic] to a large degree on the independence, integrity and quality of the investigations undertaken by the office" [emphasis added].
Of greatest concern is her readiness to promote policy without providing evidence of a real problem or its causes, and without examining a range of competent, cost-effective solutions. Let us look at the details.
History of sea level
The report says:
Over the last century, the average sea level around the world has risen by about 20 centimetres. – Overview (p.5)
Then restates it three times:
However, since about 1900, sea levels have risen by about 20 centimetres. – Introduction (p.9)
In 1941 the seismologist Beno Gutenberg analysed historic records from 69 tide gauge stations from around the world and found that since around 1900, the sea had been rising at a rate of about 1.1 millimetres a year – Chapter 2 (p.17)
Data from tide gauges around the world have been collated and show that average sea level has been rising since the beginning of the twentieth century. Figure 3.5 shows that global average sea level has risen by about 20 centimetres since then. – Chapter 3 (p.31)
(A sea-level rise of 20 cm from 1900 to 2010 equates to about 1.8 mm/yr.) The IPCC says that sea level hardly changed from AD 0 to the 20th century, when it rose at about 1.7 mm per year (AR4). In reiterating the IPCC belief the commissioner leaves the reader with the misleading impression that sea level rise began in 1900. Saying it four times ensures a firm impression, but it's still misleading.
Why do they say this? An obvious reason would be that the later they can place the beginning of warming, the stronger the suggestion can be that we caused it, because the whole thrust of the IPCC has been to prove that dangerous warming is being caused by humanity. The question of why that should be is not mine to answer.
Professor Judith Curry examined the IPCC statement, making the surprising discovery that the IPCC gives no references for it. Prof Curry actually found many studies that show "relatively static sea levels after the initial Holocene rise" (about 7000 years ago) followed by further fluctuations well before the 20th century.
The IPCC is wrong to claim that sea level has remained unchanged for 2000 years or more to 1900. From which it follows that Commissioner Wright is also wrong. From the historical evidence, observed 20th century rates of rise around New Zealand of about 1.8 mm/yr (180 mm/100 yrs) are completely unremarkable.
The NIPCC Policy Brief Commentary and Analysis on the Whitehead & Associates 2014 NSW Sea-Level Report by Carter et al. (2014), notes that sea level varies around the world and over the short and long term (p.15).
Around the world, significant regional variations occur in the rate and direction of sea-level change;
when attempts are made to estimate global sea-level from studies at specific locations, it is found to vary through time.
The IPCC published a time series of sea levels from Northern Europe in the TAR (2001):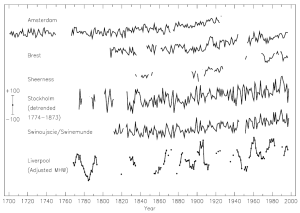 Time-series of relative sea level in Northern Europe for the past 300 years. The scale bar indicates ±100 mm (adapted from Woodworth, 1999a).
The IPCC claims that sea level rise resumed in 1900 and presents these graphs from six European harbours to show that, but just look at them and they tell a different story. Sea level started rising in Amsterdam in 1805, at Brest it was rising about 1850, and at Stockholm and Swinemunde by 1860. It is difficult to determine when levels began to rise at the last two harbours, Sheerness and Liverpool, but perhaps it was 1900.
So warming began at least about 1800, or well before humanity could have caused it. It seems generally acknowledged that if anthropogenic carbon dioxide has caused significant warming then it is unlikely to have been before the 1950s (not 1900, as the commissioner claims).
The process of attributing global surface warming to human emissions is contentious and lacks precision. The IPCC estimates the observed warming from 1951 to 2010 (60 years) was approximately 0.6°C to 0.7°C. Then they claim that "more than half" of that increase was caused by our activities. But that's a lot of guessing.
Commissioner Wright is wrong about the history of sea level.
Future of sea level
The Overview states:
The Intergovernmental Panel on Climate Change (IPCC) expects [sea level] to rise … 30 centimetres or so by the middle of the century and up to a metre or more by the end of the century – (p.5).
I found that statement in the AR5 (Chp 13 Sea level change, p.1181). It's at the high end of the IPCC scenarios.
This expectation of sea level rise comes not from any historical record—it's not a projection from real-world observations—but from computer climate models whose predictive skill is widely questioned. Professor John Christy said a few days ago in a public comment concerning climate models to the US Environmental Protection Agency (EPA) (pp 2-3) that the models are not suitable for future projections because they fail to reproduce the real world.
Here is his graph showing the marked and growing discrepancy between the model output and observations.
He described a scientific test that proves this beyond a shadow of a doubt. In numerous experimental runs of an international set of climate models using historical data, all the models consistently display one significant warming response—rapid heating in the tropical atmosphere if the atmosphere were being warmed by greenhouse gases.
But that region is not warming, which means the models are consistently producing, since about 1996, an incorrect response to greenhouse gases. This should have been acknowledged as a failure by the IPCC because the AR5 has evidence of it, hidden away in the Supplementary Material.
Thus, the models are not suitable for predictions of temperature, precipitation, humidity, droughts, storms or sea level because they predict significantly more warming than is observed and therefore more sea level rise, etc., than is warranted.
Commissioner Wright is wrong about future sea level.
History of climate
The Introduction says:
… over the last few thousand years the climate has been relatively stable …
Calling it 'relatively' stable might prevent an allegation of negligence, but the statement is still misleading. Here are three studies that describe both steady and sudden Holocene climate change:
1. Overpeck and Webb 2000. Nonglacial rapid climate events: Past and future. Proceedings of the National Academy of Sciences USA 97: 1335-1338.
2. Mayewski et al. 2004. Holocene climate variability. Quaternary Research, Vol 62, Issue 3, 243-255.
3. Bush, A.B.G. 2004. CO2/H2O and orbitally driven climate variability over central Asia through the Holocene. Quaternary International, Vol 136, Issue 1, 15-23.
The report repeats the statement about climatic stability:
The last seven thousand years has been a time of relative climatic stability, but this is now changing – Chapter 2 (p.13).
The occasional similitude of stability more likely proceeds from a lack of evidence than a lack of climate change, for the more it is studied, the more change is discovered. Climate is nothing if not changeable and in truth the modern climate is unremarkable.
Commissioner Wright is wrong about climate stability.
Greenhouse gas warming
There is a strong consensus among scientists that rising sea levels are largely a consequence of increasing concentrations of carbon dioxide and other greenhouse gases in the atmosphere raising global temperatures. – Introduction, p.9.
Yes, there is a consensus to that effect among a small number of scientists, yet science knows of no mechanism for it. Not a single paper has been published which purports to describe such a mechanism, which comes as a shock to most people. It's especially surprising when you reflect on the vital importance to the warmist case for the air to possess the ability to warm the ocean, since that's the only way for us to be blamed for sea level rise. There is a general consensus that carbon dioxide warms the atmosphere a little by slowing down the passage of long-wave infrared radiation to space, although the magnitude of the warming is uncertain and in dispute.
But the capacity of the atmosphere significantly to heat the ocean is highly contentious and no mechanism has been scientifically determined. Let me repeat that: there is no known mechanism whereby the air can significantly heat the ocean. The only reference I've come across in about eight years of studying the subject is an unpersuasive article on the Real Climate blog. It's reasonable to suppose that some heating will take place but there's not a single scientific paper describing it, even though it's vital to the alarmist case to completely dismember our fossil-fuelled transport and industry.
Imagine aiming a hair dryer at a cold bath and expecting the water to warm up—it ain't going to happen. But that's no reason, apparently, for lots of people not to claim that it does happen. Including our esteemed Parliamentary Commissioner for the Environment, Jan Wright.
If you think I'm wrong, please write and let me know, citing the paper or observational evidence that shows I'm wrong. This is so important that I would very much rather be corrected than to continue in ignorance—so I won't be annoyed with you.
Until I receive that information, Commissioner Wright is wrong about ocean warming caused by our greenhouse emissions.
Acceleration of sea level rise
Has sea level rise accelerated in recent decades?
The short answer is no, but the report claims, echoing the IPCC, that sea level will rise by 300 mm by 2050. Richard Cumming kindly superimposed that 300 mm increase on this record of sea level observations at Wellington. The black line shows the trend of the natural rise and the red line tracks the excursion that is predicted by the IPCC. The natural trend has only 35 years left to meet the end of the red line—at 8.6 mm per year instead of only 1.8 mm/yr. The rise must accelerate to five times faster than it's ever risen in the last century and longer.
Historical record of sea level at Wellington. Red line shows projection issued by IPCC and echoed uncritically by Commissioner Wright. Shows the outlandish acceleration needed to meet the IPCC's guess. Click to enlarge.
The rise is supposed to be caused by the sea expanding through being warmed by the air as its temperature rises, only it hasn't risen for about 20 years. The hypothesis that the air might warm the ocean has other problems as described above: physics is against it.
The NIPCC report Climate Change Reconsidered II: Physical Science refutes the idea of sea level rise acceleration:
The IPCC's 2007 report projected global sea level was likely to rise by somewhere between 18 and 59 cm by 2100, and at an accelerating rate. … However, multiple analyses of tide gauge and satellite records make it clear rates of global rise around 10 mm/y do not, and are not likely to, occur. … Though it is only an inadequate 20 years long, the satellite radar altimeter record also displays a recent deceleration of sea-level rise – Chp 6, Observations: The Hydrosphere, p.754.
Then it says:
The IPCC (2001) wrote "no significant acceleration in the rate of sea-level rise during the 20th century has been detected" – p.771.
The satellite data, which began in 1991, estimate a higher rate of rise than tide gauge data but there's no evidence of acceleration. Finally, the NIPCC says:
Hannah and Bell (2012) analyzed four 100-year long records from New Zealand's four biggest ports (see Figure 6.2.1.5.1) and found no acceleration beyond the average linear rate of rise of 1.8 mm/yr. – page 772.
So Commissioner Wright is wrong about the acceleration of sea level rise.
---
We'll look next at Chapter 2, in which the ancient past is described as highly variable and completely independent of carbon dioxide, informs us that apparently modern variability (which, amazingly, is greater than ever before) is caused only by carbon dioxide.
---
Hits: 420