Of course, we only listen to normal people
h/t Richard Cumming. When he pointed to Jamie Glazov's article I discovered the McCarthy outrage.
Lots of people have stopped listening to climate science, which observes no warming for 20 years. They are now being exhorted to stop listening to 'climate deniers'.
US EPA chief Gina McCarthy is spouting insidious totalitarian doctrine hidden beneath a pretended admiration of democracy and camouflaged by appeals to the good of the majority. So she prepares the ground for legal restraints against honest free speech, and someone must point it out.
From Jamie Glazov at FrontPage Mag comes this lament that the US is falling into oppression of the same stripe her Russian family fled in the 1980s.
Gina McCarthy's totalitarian attitude toward global warming sceptics parallels, of course, the Soviet mindset that forced Soviet dissidents into psychiatric hospitals to be force-fed drugs. McCarthy and her superiors in the Obama administration do not, at this point, have the power to put the sceptics they are labelling into asylums, to be administered "tranquilising" injections and immersed in ice baths, but it is clear from their own words what their desires are—and what path they are clearing for the brave new world.
Of her family's ordeal and the modern lesson for the rest of us:
My family escaped a totalitarian hell to come to a free country to now face, in the most tragic and bizarre sense, the ideological cousins of our tormentors. The Left and its totalitarian gate-keepers are now in solid power here, slowly but surely building the prison walls and "psychiatric" spaces designed for the treatment of abnormal skeptics. Gina McCarthy and her ilk must be called out for exactly who they are — and for what they are intending to do.
Where are our journalists?
After years of battling disgusting "hate speech", with resultant new legal restraints applied to free speech in many free countries, it's easy now for some to say that objections to action against climate change must similarly be prevented (as though they're just as morally repugnant), since lack of action threatens everyone's safety. Allegedly—but never mind the logic, feel the hate.
Free speech loses again, so it's astonishing to see in New Zealand only your humble correspondent taking up an inky cudgel against this latest outrage.
This YouTube video starts at McCarthy's "normal people" admission at the end of her address.
[2:14:01] When I put a report out on acting on climate, like we did yesterday, that shows how dramatically our world will change if we don't act, and just the benefits we can deliver if we do, I am doing that not to push back on climate deniers. You can have fun doing that if you want, but I've batted my head against the wall too many times and if the science already hasn't changed their mind it never will.
But in any democracy, it's not them that carries the day; it is normal human beings that haven't put their stake in to politics above science; it's normal human beings that want us to do the right thing—and we will if you help us. Thank you. [2:14:45]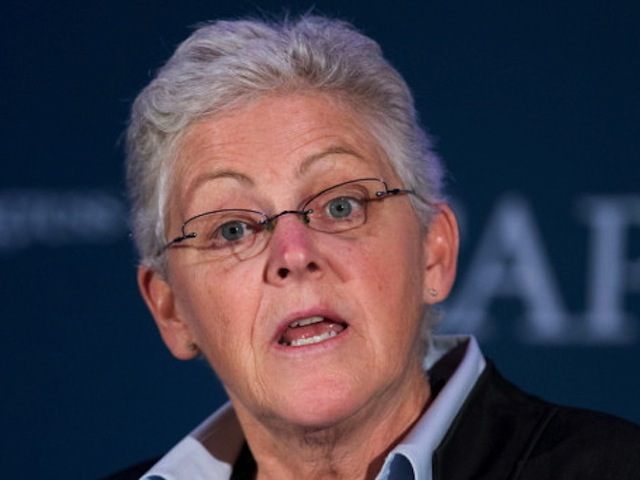 Gina McCarthy, US EPA Administrator. Demonising dissidents.
In the video of McCarthy's address to the summit, I discovered that, just seconds before she asserted 'climate deniers' were not 'normal' and shouldn't participate in the discussion, she had surprisingly said just the reverse: that everyone should be allowed in.
[2:12:36] But as always in a democracy, every voice is supposed to count, but every voice needs to be in this discussion.[2:12:44]
Among normal people, saying one thing and immediately contradicting oneself is generally seen as abnormal.
Climate rights denier
She knows the principle of free speech very well, but she's denying it for the sake of her personal agenda. She's a climate rights denier.
The Public Health and Climate Change Summit meeting was streamed live on June 23, 2015. This is how the White House promoted it:
On June 23, the White House will convene a summit on Public Health and Climate Change. The event will bring together health and medical professionals, academics, and other stakeholders to empower people and communities with the science-based information and tools they need to protect public health in the face of climate change. The discussion will focus on the impacts of climate change and underscoring the important role the public health community can play in communicating and preventing these impacts.
So they filled a room with health and public administration leaders all keen as mustard to hear how to stay plugged in to the public teat and secure their precious funding. In what was not the surprise of the year, not a dissenting murmur was heard.
http://www.dispatch.com/content/stories/local/2015/06/23/White-House-hosts-climate-summit.html:
People seeking to change the world filled the Byrd Polar Research Center at Ohio State University on Tuesday. Concerned about climate change, they came together for the White House Public Health and Climate Change Summit, with scientists and public-health officials participating in panel discussions about how climate change impacts health.
http://www.publichealthnewswire.org/?p=13330:
"We are not here today to debate whether climate change is real. We are not here to debate whether or not human activity is contributing to that. These questions have been settled by scientists," said Surgeon General Vivek Murthy during his remarks. "But we are here today as public health leaders, as policy makers and as citizens of the planet to figure out what we are in fact going to do about climate change."

Environmental Protection Agency Administrator Gina McCarthy underscored the importance of action calling climate change the biggest challenge of our time. She said it's also the biggest health challenge of our time.
Hits: 178