They're just like the Royal Society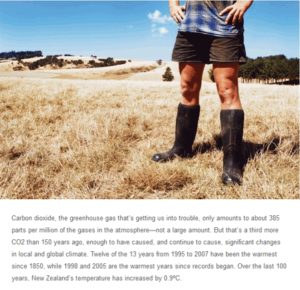 A National Geographic newsletter last March featured climate change. The picture to the right, which appeared in the newsletter, is from NIWA's website. The caption summarises the effect of carbon dioxide on the climate. It says:
Carbon dioxide, the greenhouse gas that's getting us into trouble, only amounts to about 385 parts per million of the gases in the atmosphere—not a large amount. But that's a third more CO2 than 150 years ago, enough to have caused, and continue to cause, significant changes in local and global climate. Twelve of the 13 years from 1995 to 2007 have been the warmest since 1850, while 1998 and 2005 are the warmest years since records began. Over the last 100 years, New Zealand's temperature has increased by 0.9ºC.
Note the innuendo, nothing more, that falsely concludes carbon dioxide is causing temperatures to rise.
Note the deceit, nothing more, that claims recent significant warming, yet fails to admit that the scientific literature shows a negligible temperature rise from 1909 to 2009 of only 0.28 ± 0.29 °C.
Never mind the "warmest years" mantra, as though there's a continuous rise—those years' average temperatures are separated by mere fractions of a degree, much as the altitudes across a flat mountain summit at, say, 12,000 feet are necessarily variable and separated by mere inches. They do not support a verdict of rising temperature stretching out for the next hundred years — that is born of ignorance allied with insanity. NIWA's data also show no New Zealand warming whatsoever since about 1950.
The caption quoted above is evidence that NIWA's claim that the 7SS does not influence government policy was torn from reality. NIWA has for years used the 7SS as "proof" that carbon dioxide is "getting us into trouble."
There is not one iota of evidence that man is changing the weather.
Apparently the Royal Society agrees with this.
h/t – NZ Climate Science Coalition
Hits: 1868