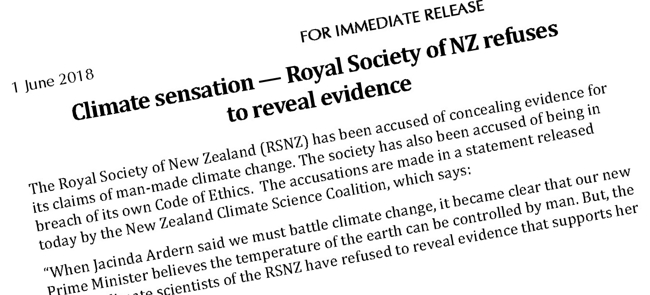 1 June 2018                                                           FOR IMMEDIATE RELEASE
The Royal Society of New Zealand (RSNZ) has been accused of concealing evidence for its claims of man-made climate change. The society has also been accused of being in breach of its own Code of Ethics.  The accusations are made in a statement released today by the New Zealand Climate Science Coalition, which says:
"When Jacinda Ardern said we must battle climate change, it became clear that our new Prime Minister believes the temperature of the earth can be controlled by man. But the leading climate scientists of the RSNZ have refused to reveal evidence that supports her belief.
"Perhaps they have no evidence? That would raise the alarming possibility that, without evidence, our leading climate scientists persuaded the Prime Minister there's a national crisis. But if evidence exists, why did the RSNZ conceal it?
"The society published two studies in 2016 based on the assumption that man-made greenhouse gases cause dangerous global warming, but presented no evidence for it. In June that year, they issued a statement: 'New Zealand is already experiencing more frequent floods, storms and droughts, scrub and forest fires causing damage to the environment and people's livelihoods'.
"These claims are not true. Scientific evidence resists a conclusion of increasing floods, storms, droughts and bush fires. The evidence even opposes the claims that New Zealand is warming or sea level rise is accelerating.
"The NZ Climate Science Coalition (NZCSC) wrote to the  RSNZ last November asking for: 'indisputable evidence supporting the hypothesis that man-made greenhouse gases cause dangerous global warming.'
"We told them any reasonable person reading these reports from our premier scientific institution would assume that there was solid evidence behind them.
"Indeed, the whole country would like to believe that the RSNZ, advisors to our Government, would have had decisive evidence that the Prime Minister was on the right track. For if she was contradicting the science and in conflict with what they knew to be true, they would certainly point out her mistake, even in private.
"Responding to our request for evidence, the RSNZ at first suggested we search 'the Internet' and scientific papers in general. When we asked again, they mentioned three specific but wholly unhelpful papers of many hundreds of pages. When we pressed them to say precisely where in those references the proof lay they stopped talking to us. This appalling response clearly breached their own Code of Ethics.
"This is intolerable. At the very heart of this paragon of rectitude, at the pinnacle of scientific diligence and the search for truth, they committed a breach of their own rules. The RSNZ Code of Professional Standards and Ethics enjoins its members to tell the truth, to communicate their knowledge to the public and, in dealing with the wider community, at all times present themselves and their knowledge in an ethical and responsible manner.
"These are rules that apply in academia, commerce, industry, indoors or the wild outdoors—wherever scientists study the world.
"NZCSC laid a formal complaint alleging a breach by the Chief Executive of the RSNZ's Code of Ethics in making unjustified statements alleging fact, refusing to authenticate statements in official reports and imperiously silencing our dialogue.
"After examining our complaint, a panel of members of the RSNZ determined that a lack of evidence underlying the greatest challenge of our generation, the PM's nuclear moment and a lack of courtesy in the various responses, all clearly covered under the Code, were breaches 'insufficiently grave to warrant further pursuit.'"
__________________
Ends (578 words)
NZCSC contact: Richard Treadgold, tel 0275 340 641   email: [email protected]
Hits: 1235