Professor Stephen Hawking, beloved Cambridge cosmologist, fearless victor over ferociously crippling disease and inspirational investigator of the origin of everything (though not a climate scientist) has powered on his (preferred old model) speech synthesizer in public to parrot the alarmist view of global warming.
Speaking to the BBC to mark his 75th birthday the author of a A Brief History of Time said: "We are close to the tipping point where global warming becomes irreversible.

"Trump's action could push the Earth over the brink, to become like Venus, with a temperature of two hundred and fifty degrees, and raining sulphuric acid."
Reported in the Herald this morning, he refers to President Trump's decision to withdraw the United States from the Paris climate accord. As if a climate disaster is remotely possible. Does he realise how many climate scientists disagree with him?
Is this a landslide in perhaps the greatest mind of the late 20th century? Perhaps it's another example of the Trump effect, whereby the Donald's constantly immoderate responses to the havoc of modern life so baffles the illiberal mind that it flips. Whatever, we must rebut Prof Hawking's unscientific assault on climate science.
First, history, in which Stephen is usually strong (if brief), reveals not a single episode of runaway warming in 450 billion years. Runaway means that hot and hotter is your eternal future — cool times never return. It happens only once, but once is all it takes.
Second, the two physical, measurable atmospheric factors at the centre of this preposterous panic, carbon dioxide and temperature, have both been far higher than they currently are, yet there was no runaway event. As this graph of the last 600 million years shows, there has been only one other period, in late Carboniferous to early Permian, where both temperature and CO2 were as low as they are right now.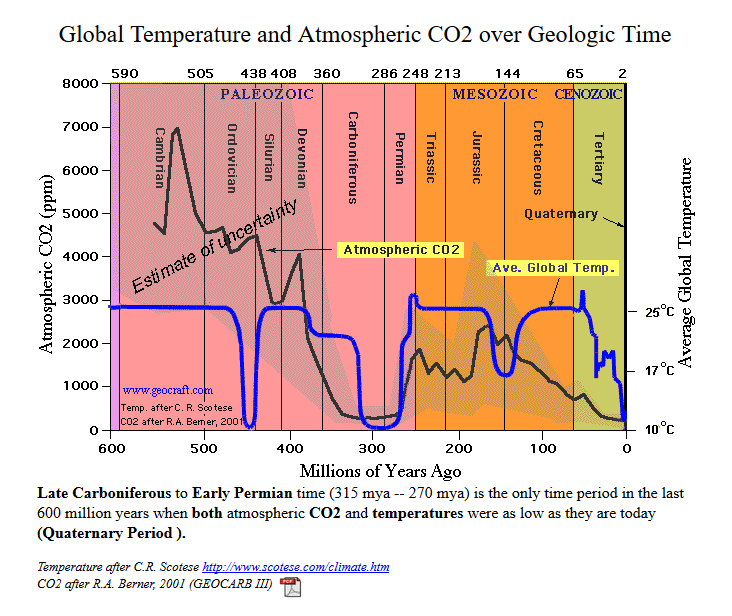 Outside those two low-temperature, low-CO2 periods was 92% of evolution, yet CO2 and temperature never caused a runaway warming event. Temperature, now about 15°C, has mostly been around 25°C; CO2, now 400 ppmv, has always been above 1000 ppmv with a peak of 7000 ppmv.
In my research to rebut the much-venerated Prof Hawking I learned this is not the first time he has expressed alarm about the climatic possibilities ahead. Still, if the past remains the best guide to the future, there's nothing to fear and even Stephen, wise as he undoubtedly is, cannot afford to stop learning.
Does Prof Hawking know how our airborne emissions might significantly heat the ocean? Nobody else does, so I've asked him. I just heard that he gets too much mail to handle and cannot help us.
Anyone know a climate scientist or top-level physicist?
I must leave just now, but perhaps I should try Mike Kelly.
Hits: 501