A lot of exaggeration and misdirection – take a look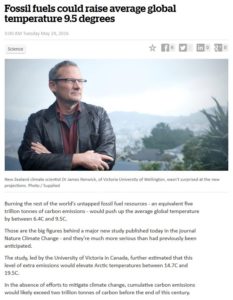 Burning the rest of the world's untapped fossil fuel resources – an equivalent five trillion tonnes of carbon emissions – would push up the average global temperature by between 6.4C and 9.5C.

Those are the big figures behind a major new study published today in the journal Nature Climate Change—and they're much more serious than had previously been anticipated.

The study, led by the University of Victoria in Canada, further estimated that this level of extra emissions would elevate Arctic temperatures between 14.7C and 19.5C.

In the absence of efforts to mitigate climate change, cumulative carbon emissions would likely exceed two trillion tonnes of carbon before the end of this century.
Etc., alarming, blah, blah, scary, blah.
The paper referred to is "The climate response to five trillion tonnes of carbon", by Tokarska et al., published by Nature Climate Change on 23 May. It reports on climate model runs based on the IPCC's RCP8.5 scenario. This is the most extreme of the imagined futures dreamt up by the IPCC, in which human emissions continue to rise with no attempt to stop them. At the same time, it assumes high population growth (which pushes up emissions), slow income growth (less funding for the environment) and little improvement in technology (no energy innovation).
There are defects with this paper in assumptions, methods and reasoning.
Concerning methods: the use of climate models does not constitute scientific observation of natural phenomena or the provision of any kind of evidence. They have not been subjected to a rigorous level of verification as, for example, have nuclear weapons models. Many people, environmentalists among them, strongly oppose spending public money to build nuclear weapons. Yet the policies required by these extravagant climate predictions will ultimately, if our leaders believe them, cost us vast sums. Nuclear weapons would be cheaper.
Under the IPCC's guess in RCP8.5, total radiative forcing from human emissions of GHGs would reach 8.5 W/m2 by 2100. According to AR5, this would produce a likely temperature increase of 3.7 °C (2.6 to 4.8 °C).
Bad enough—even unprecedented—but this paper surpasses the IPCC's guess by no less than 100%, suggesting the upper bound could be doubled to 9.5 °C. INCREDIBLE!
I must say that it is very strange to see the scientist James Renwick pictured in the Herald gazing calmly into the middle distance while discussing this scary escalation of temperature as though it's not the most outrageous climate forecast we've ever heard. Although the maximum variability of earth's mean temperature is about 10 °C, it has never been 10 °C warmer than current temperatures—not in 4500 million years.
Whatever reservations we might hold over the climate's likely sensitivity to further parcels of CO2, RCP8.5 poses other obstacles to easy acceptance. For example, it sets such extreme limits on industrial and social development they are unlikely to transpire. It views as unlikely an effective human response to what would be a clear and growing problem, which alone makes it scarcely credible, because if a climate problem becomes detectable, man always does something about it.
The paper has obvious defects which James Renwick fails to discuss. For a start, over two hundred years must elapse before our emissions reach 5 trillion tonnes of carbon and cause this ferocious 9.5 °C increase in temperature. The Herald says we would reach only 2 trillion by 2100. So there are 208 years to go. The unjustified tone of urgency rather paints the authors closer to activists than scientists.
What time is estimated to burn through our remaining reserves of fossil fuel? Some recent figures estimate that oil and gas will each last about 200 years, and coal about 3000 years. One might guess that liquefying much of the coal to replace dwindling liquid fuels could extend this by several hundred years—let's say another 500 years, for a total of about 700 years. Of course,  we're constantly making new finds and fracking is revolutionising the playing field by extracting more from difficult fields. Nobody can predict either future discoveries of oil and gas or future scientific advances.
Another problem with these extraordinary predictions is presented by the extreme complexity of the planetary climate. The theory is that carbon dioxide increases atmospheric temperature, but observation shows that increases in carbon dioxide always follow a temperature rise. I've never heard a sensible explanation of this extreme contradiction between theory and observation, but the truth is the temperature controls the level of atmospheric carbon dioxide, not the other way around.
The deep ice cores from Antarctica reveal that atmospheric temperature changes came before changes in carbon dioxide content. Recent papers show that it is still happening and on all time scales. For example, Humlum et al. in The phase relation between atmospheric carbon dioxide and global temperature (2013).
From the abstract
We find a high degree of co-variation … but with changes in CO2 always lagging changes in temperature. The maximum positive correlation between CO2 and temperature is found for CO2 lagging 11–12 months in relation to global sea surface temperature, 9.5–10 months to global surface air temperature, and about 9 months to global lower troposphere temperature. The correlation between changes in ocean temperatures and atmospheric CO2 is high, but [does] not explain all observed changes.
Again, this is from observation. The only indication that carbon dioxide causes atmospheric temperature increases is climate models, programmed to implement the warming observed under laboratory conditions. But because weather is chaotic and unpredictable, we don't understand it; because we don't understand it, and we create climate models, the models don't understand it. So neither they nor we can predict the weather beyond a few days.
Finally, the accumulated "man-made" fraction of carbon dioxide, according to a recent paper, amounts to about 15 ppm of the atmosphere. This is only 3.75% of the total carbon dioxide, or—wait for it—only 0.000015 of the atmosphere (one-and-a-half one-hundred-thousandths). This is less than the amount of neon in the atmosphere.
It is outrageous to claim that our emissions of CO2 might control global temperatures, for the atmospheric mass of accumulated man-made CO2 lacks the capacity to exert the necessary thermal influence. It would hardly warm a flea.
I note the strong El Nino is over and the cooling is well under way. Dr Renwick's prediction of many degrees above present temperatures is unreliable. It is perhaps more reliable as a measure of the degree of panic the alarmists are feeling as the climate refuses to cooperate and their narrative of doom unravels.
Hits: 127