A lot of exaggeration and misdirection – take a look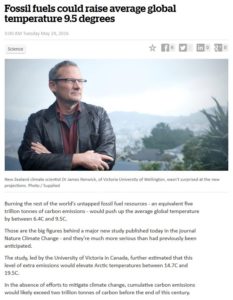 Burning the rest of the world's untapped fossil fuel resources – an equivalent five trillion tonnes of carbon emissions – would push up the average global temperature by between 6.4C and 9.5C.

Those are the big figures behind a major new study published today in the journal Nature Climate Change—and they're much more serious than had previously been anticipated.

The study, led by the University of Victoria in Canada, further estimated that this level of extra emissions would elevate Arctic temperatures between 14.7C and 19.5C.

In the absence of efforts to mitigate climate change, cumulative carbon emissions would likely exceed two trillion tonnes of carbon before the end of this century.
Etc., alarming, blah, blah, scary, blah. Continue Reading →
Hits: 127