Then Renowden joins him
Our most vocal critic, Ken Perrott, has chanced upon a file I just posted, containing the unadjusted temperature data which was the subject of our paper, Are We Feeling Warmer Yet? (AWFWY), published here in November, 2009.
His response is to claim we made a big error. However, without realising it, Perrott actually accuses Dr Jim Salinger and NIWA itself of that error, because we just copied what Salinger did; what NIWA still does.
Most of Ken's article at Open Parachute is pious ad hominem nonsense. There's no reason to respond to all the arm-waving, so the sole point at issue is how to present an annual series with missing data.
The purpose of AWFWY was to compare the NIWA-adjusted Seven-station Series (7SS) with the unadjusted data. It was therefore necessary to use the same techniques as NIWA, insofar as they had been disclosed or were discernible. We had Salinger's spreadsheet of adjusted readings, and we just did what Salinger did — he averaged years with missing data according to the number of available stations. Exactly what Perrott complains about.
You can see that from the spreadsheet. If you doubt that fact, just ask NIWA.
So, contrary to Perrott's assertion, NIWA regularly calculates averages over years of missing data. He claims they "infilled" the missing data, but, in fact, they did not. In response to AWFWY, NIWA published its Eleven-station Series (11SS), which commences in 1931 with eight stations missing and has full data for only one year out of the first twenty-four. Shocking!
The NZ Climate Science Coalition was very critical of the 11SS for this very reason: how dare NIWA claim a "series" for a dataset that was blatantly incomplete? See NZ climate crisis gets worse.
It was not until they asked the Australian Bureau of Meteorology to review its replacement for the 7SS (the NZT7) that NIWA realised the enormity of its mistake. For all mention of the 11SS has been omitted from the Review Report and the NZT7 itself has been recalculated to apply to a "composite series". See BoM the Terminator.
Ken cements his opinion of our "mistake" with these comments:
A notable feature [of the spreadsheet Treadgold just released] is the large amount of missing data – especially in early times. Even in later years there are data gaps. Notice how Treadgold has calculated the average anomaly value? Simply by taking the average of the anomalies [sic] all 7 stations! Even when some data is missing. Even when he has values for only 1 station! This completely invalidates Treadgold's analysis.
So now we know that NIWA, by using, say, the average of three stations, "completely invalidates" the New Zealand temperature record. Is that right, Ken? Does James Renwick agree with that?
Then, by way of contrast, Perrott provides his opinion of what his scientific idols at NIWA have done:
How did NIWA handle the problem of missing values? In their original presentation of this data (the one attacked by Treadgold in his report) they did not make this mistake. Instead they used a "7-station composite" – effectively a reconstruction based on estimating missing data. In their most recent presentation (see Painted into a corner?) they removed the early data (where a lot of values are missing) because it's reliability was questionable. They also did not have the problem of missing data in more recent times which Treadgold had.
Really? How do you know that, Ken? Considering we were working from NIWA's original data, the set produced by Jim Salinger, then they certainly did have the problem of missing data, even in "more recent times." They absolutely did not "estimate missing data." They solved the problem by averaging whatever data they had. So did we. Why on earth do you criticise it?
It's quite funny that Gareth Renowden, at Hot Topic, obviously without even looking, has accepted Perrott's analysis holus-bolus. For our entertainment, he enumerates our errors:
Treadgold makes no allowances for missing data, makes no attempt to create a valid composite series, simply averages the numbers and plots them on a graph. There are a lot of gaps in the data — especially in the early years — so the "NZ" temperature is in some years just Dunedin, or Dunedin plus Wellington, or Wellington plus Auckland, and so on. Treadgold's incredible statistical naivete allows him to not just compare apples to oranges, but to feijoas and konini berries as well.
He's amusing when he gets going, don't you think? It just happens that he's barking up the wrong tree. He goes on, all oblivious to his mistake:
A whole political campaign has been constructed on the back of this statistical idiocy. Variations of Treadgold's claim have been used in questions in Parliament. Valuable scientists' time and tax payer money has been wasted pursuing his folly. The Climate "Science" Coalition are still desperately trying to keep the issue alive, hoping that if they can create enough smoke everyone will assume there's a fire somewhere. Unfortunately for Barry Brill and his colleagues, Treadgold's statistical incompetence undercuts their whole campaign. Do they really think the NZ public and politicians will take the word of a bunch that sling mud and smear scientists, when they are incapable of doing their own simple sums?
So who is not doing their sums? And we're not slinging mud, we're pointing out the simple truth: this is how the New Zealand temperature record has been calculated.
What Gareth says is a good criticism of the NZT7, but it should be directed, of course, at NIWA, not at me or the Coalition.
Delicious. Hoist with their own petard, indeed! Apologies from Gareth and Ken should not be long in coming. But is anyone holding their breath?
And how will NIWA respond to their supporters' stern criticism of them? Justify their unscientific methods, or apologise, or fix things, or deny everything, or what?
David Wratt, James Renwick: it's time to be accountable! It's not just us: your own supporters disagree strongly with what you have done.
UPDATE 13 Feb
I should acknowledge Gareth Renowden's apology. I appreciate that, Gareth, thanks. However, I must say that, when you go straight on with your criticism of AWFWY (which, quite apart from anything else, thoroughly weakens the fabric of your apology), you overlook yet again that its purpose was simply to compare, for each of the stations, the unadjusted with the adjusted data.
Here's Auckland: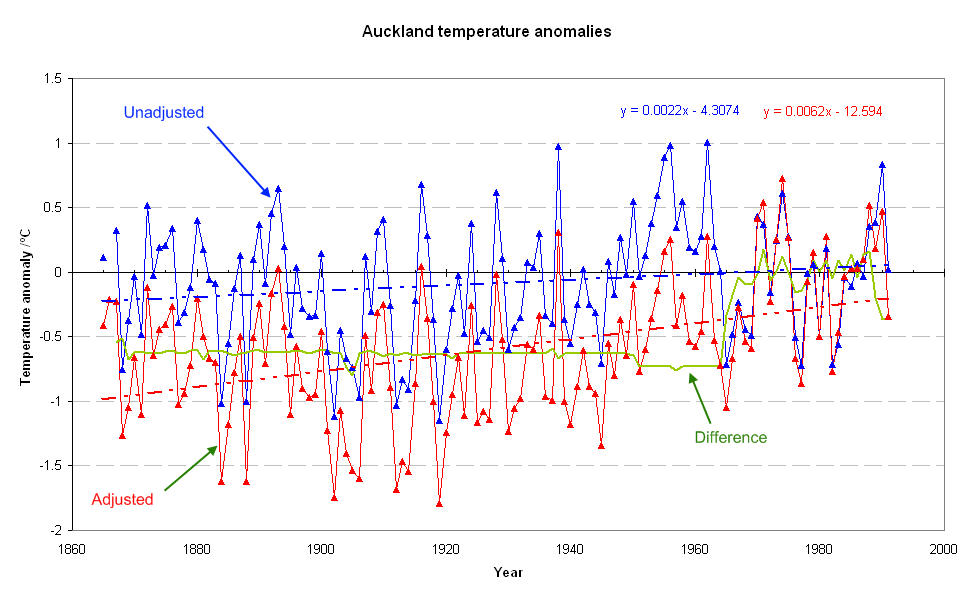 See the effect of the adjustments? From blue to red, the warming greatly increases. "The oldest readings have been cranked way down and later readings artificially lifted to give a false impression of warming … There is nothing in the station histories to warrant these adjustments and to date … NIWA have not revealed why they did this." NIWA still haven't.
Six out of seven stations had their warming increased over the evidence of the thermometer readings. An analysis by Barry Brill showed that 80% of the adjustments favoured a warming trend. Just unlucky, was it?
Remember that, at the time, NIWA hadn't told anyone there were any adjustments. Looking at the official graph on the web site with the supporting information, you'd think you were looking at raw temperature readings. It wasn't until we compared their graph with the data they made available that the truth became obvious.
So our simple exercise discovered that all of the warming was produced by these hitherto-unknown adjustments.
No bad thing, you might say, if the adjustments were properly done, and I agree. But that discovery made it crucial that every adjustment be rigorously justified, yet NIWA has never answered our crucial question: "Why did you make those adjustments and how big were they?" Which means that nobody knows whether they were properly done. Not even NIWA—because if they could have justified them, they wouldn't have gone to any further expense.
Instead, they announced a brand-new "reconstruction" worth $70,000! By doing this, they as good as admitted that they couldn't answer our crucial question. Now, presumably, they can answer it, having just done the exercise anew. New Zealand now has (we hope) a properly scientific temperature record.
Of course, we can't judge it yet, we're waiting for publication and NIWA's estimate of error margins.
But well done, them; well done, too, to the Coalition and the CCG.
It would have been nice to have your support, Gareth, for this public-spirited venture, but we managed without it. I can't begin to imagine why you were ever against it. I hope you aren't too disappointed that NIWA gave in to the logic of our criticisms. It might have been the right thing to do, but it must have been a bitter disappointment to their supporters who thought NIWA could do no wrong! Much like a kick in the teeth, I guess.
Hits: 78