Today, the NZ Herald published a letter from one Hylton Le Grice, of Remuera, revealing a financial arrangement with the United Nations I was not aware of and that I'm fairly sure I would have remembered our government consulting us over.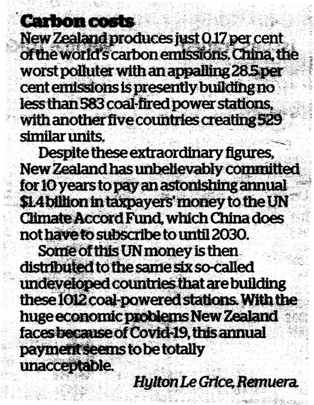 In case this facsimile arrives illegible, here's what it says:
New Zealand produces just 0.17 per cent of the world's carbon emissions. China, the worst polluter with an appalling 28.5 per cent emissions is however presently building no less than 583 coal-fired power stations, with another five countries creating 529 similar units. Despite these extraordinary figures, New Zealand has unbelievably committed for 10 years to pay an astonishing annual $1.4 billion in taxpayers' money to the UN Climate Accord Fund, which China does not have to subscribe to until 2030. Some of this UN money is then distributed to the same six so-called undeveloped countries that are building these 1012 coal-powered stations. With the huge economic problems that New Zealand now faces because of Covid-19, this annual payment seems to be totally unacceptable.
Is it true?
Hits: 113