UPDATE 3 September 2020
I received a reply a month ago. See below the horizontal line.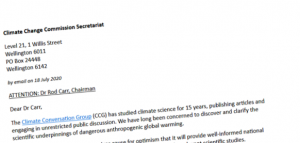 Our letter to Dr Rod Carr, Chairman, Climate Change Commission Secretariat.
Let's find out just how independent this new commission seems to be, or how firmly the Coalition has tied its hands to the Green agenda.
As far as I know, this is New Zealand's very first Secretariat. It's so 19th Century. So Marxist.
---
UPDATE 3 SEPTEMBER
Reply received 4 August 2020
Please examine this reply closely, as it may present opportunities to unstitch their assumptions and beliefs. Your thoughts would be valuable in framing a reply, so let me know what you'd like to ask or change. Thanks.
Hits: 15