There's no escaping the relentless barrage of climate alarm. Two weeks ago Mike Hosking accused us all of dishonesty over climate change, for we lament the potential of fossil fuels to destroy us while our emissions reach record levels and we use ever more coal, oil and gas but politicians around the world do nothing about it.
News media from Toronto to Te Puke hector us that "climate related disasters" are increasing but shoot themselves in the foot when they picture bushfires "caused by climate change." The New York Times exemplifies the huge gaps between alarmist rhetoric and reality with blatant factual distortions designed to heighten public anxiety.
"Things are getting worse," said Petteri Taalas, secretary-general of the World Meteorological Organization, which [recently] issued its annual state of the global climate report, concluding a decade of what it called exceptional global heat. "It's more urgent than ever to proceed with mitigation."
To these doomsters it doesn't matter what they say because the news media will never falsify it. The news media take the view that, since everyone else has been claiming rising temperatures over the last few decades, what does it matter if we say it again today? We can hardly be blamed for it.
Well, I'm drawing a line in the sand — it's wrong.
Rising temperatures?
UAH (satellite) global temperature record since 1979 (41 years). The peaks where temperature suddenly soars and quickly returns to its origin occur under the influence of El Ninos, which generally increase the global surface temperature. In other words, they are one-offs, not a sign of a warming trend. This graph shows that, from about 1995 to mid-2019, there's been precious little warming. If solar symptoms are any indication, we're on the brink of substantial cooling.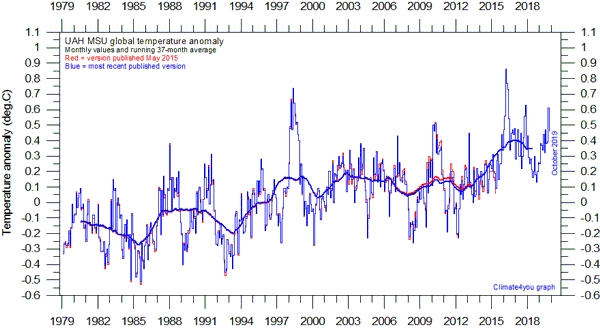 But it's so very tempting to think the temperature peaks are caused by human emissions. I pondered how to convey the sense that they are entirely natural events. The Multivariate ENSO Index Version 2 (MEI2), from NOAA (next), shows warm and cold events since 1979. The index is a mathematical amalgamation of the surface wind, sea surface temperature, surface air temperature and cloudiness. Warm (red) and cold (blue) periods are based on a threshold of +/- 0.5 of those dimensionless MEI2 units. It looks like this:

I wondered whether overlaying this index of El Nino and La Nina events on the temperature graph might give a reasonable sense of the correlation between them and the global temperature spikes, and here it is:
It seems to work. Remembering that there's no correlation of the Y-axes, so it's only the vertical movements in each graph (the blue lines and the red/blue shading) that might be significant. So from about 1995/96 there's no distinct warming trend evident until the last 12 months or so, when that apparently descending 37-month running average might do anything.
I think it's reasonable, but let me know what you think.
Hits: 125