Dr Ed Berry has written a paper entitled Human CO2 has little effect on atmospheric CO2. He concludes:
Human CO2 does not increase atmospheric CO2 enough to cause climate change.
Electrifying!
I was drawn to it immediately, but recoiled at apparently appalling treatment by the editor. The American Journal of Climate Change rejected the paper for the following outrageous reason:
The conclusion of this paper is completely opposite to the consensus of the academic community.
On his website, Ed readily agrees that it opposes the consensus, adding:
… the journal did not forward any evidence that there is an error in my paper and did not acknowledge that my paper proves the "consensus" is wrong. So, if it is unacceptable to publish a paper that contradicts the "consensus" how can there be progress in science?
The paper remains unpublished, but Ed makes his journal submission available on his website. PLEASE NOTE that Ed cautions readers: Copyright does not allow republishing of journal submissions. Therefore I will not republish the paper here until it's publicly available, in case I deter other journals from accepting it. You can of course read Ed's copy.
I emailed the editor at AJCC.
Letter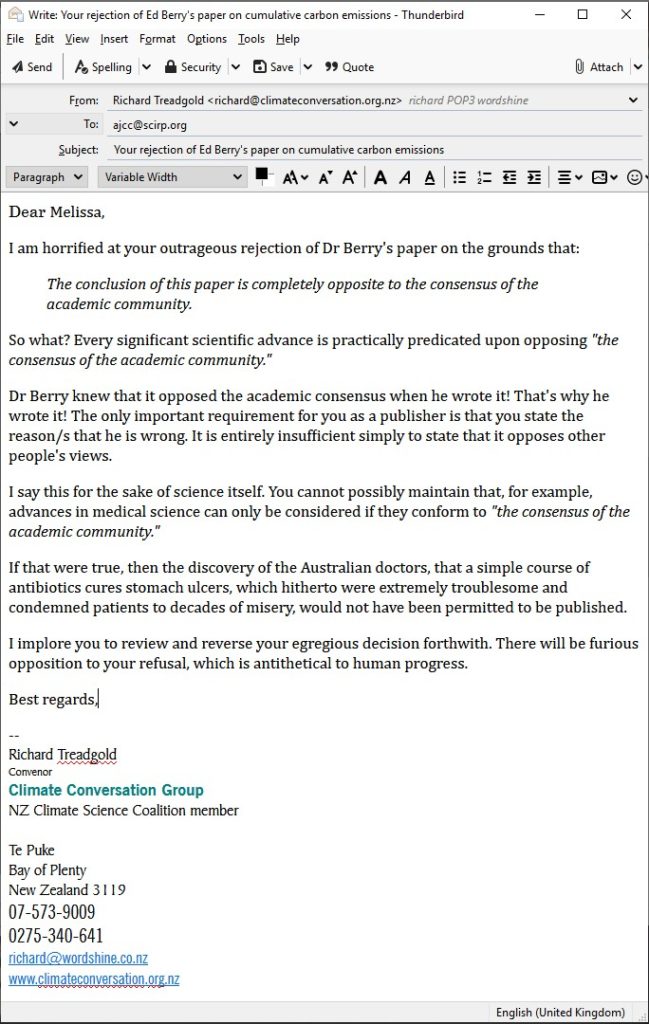 Reply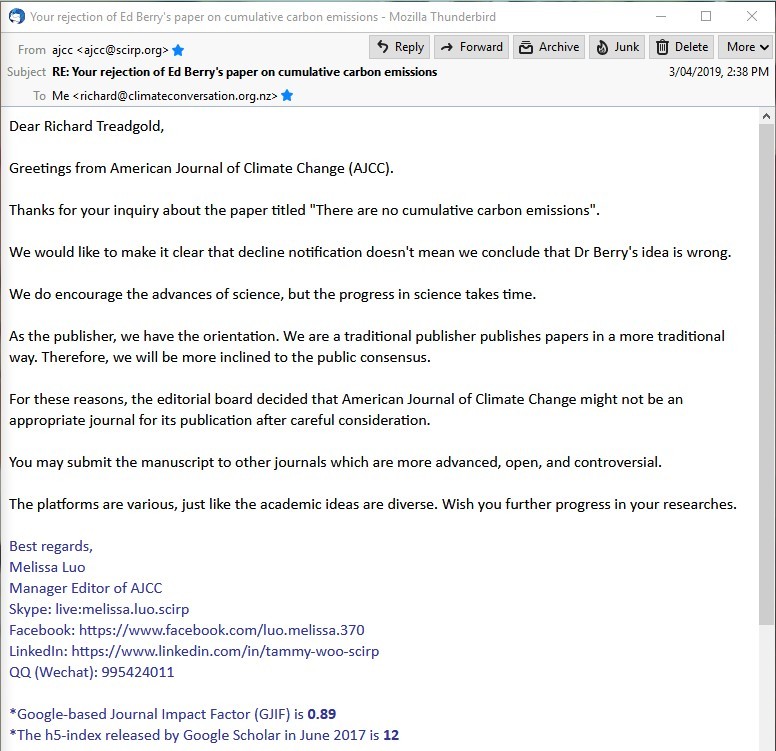 For the editor of an academic journal she writes a disorderly letter, descending in parts to sheer incoherence, and though she reassured Dr Berry they don't consider his idea wrong, in declining to publish the paper the editorial board firmly prevented any potential review of it, and whatever they thought of Ed's idea became irrelevant.
Ed has already submitted the paper elsewhere, and we wish him luck.
Hits: 765