Barry Brill and I condemn the wilful political blindness that contemplates destroying our energy security and risking dry-year blackouts by shutting down the last thermal power plant merely to win polite applause from other nations. Meanwhile, those same nations are brazenly operating a gigantic fleet of 3700 coal-fired power plants and building another 1900.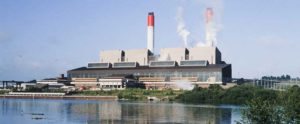 The Huntly gas and coal-fired power station is NZ's largest thermal generator. With its coal generation halved to 500 MW and total capacity including gas now 953 MW, or about 5000 GWh/year, Huntly can still provide about 12% of our annual consumption. Genesis intends to remove the remaining coal units by 2022, and there's an uncertain future for the gas units since the Prime Minister, without consulting interested parties such as the industry or the electorate, banned gas exploration.

Are New Zealand politicians naive? Babes in the wood? Country yokels who don't understand realpolitik?
Every year, New Zealand climate ministers make speeches about closing down Huntly at climate conferences all over the world. This allows them to be seen as 'good guys' and join the ranks of counterpart ministers from dozens of other countries — all of whom are making speeches about closing coal plants. These speeches are a good thing. They give the ministers a rosy glow about their own selflessness and encourage everybody else to try harder for the noble cause.
Everybody (except New Zealand) knows that this is political theatre. It gets great headlines and makes the voters back home feel proud. It also encourages the troops — the thousands of full-time green activists who attend these gatherings as their annual perk. They need to re-stoke the inner fire if they are to go home and hit the streets with their collecting boxes.
So much for the speeches. Now, what do these ministers actually do? Here is a list of the coal-fired plants now operating and the new ones being built or planned (H/T Geoff Duffy):
COAL-FIRED POWER PLANTS
| COUNTRY | EXISTING | PLANNED | FUTURE TOTAL |
| --- | --- | --- | --- |
| EU | 468 | 27 | 495 |
| TURKEY | 56 | 93 | 149 |
| SOUTH AFRICA | 79 | 24 | 103 |
| INDIA | 589 | 446 | 1036 |
| PHILIPPINES | 19 | 60 | 79 |
| SOUTH KOREA | 58 | 26 | 84 |
| JAPAN | 90 | 45 | 135 |
| CHINA | 2363 | 1171 | 3534 |
| TOTALS | 3722 | 1892 | 5615 |
For more detail, see this impressive illustration (an interactive website) of all the world's coal-fired generators by Carbon Brief. Here's a static image for an overview (click to enlarge):

Of particular interest are the categories  "under construction" and "planned". In the EU, whose ministers always make the longest and loudest speeches, there are 5,810 MW (12 Huntlys) being constructed right now and a further 9,270 MW (19 Huntlys) planned. In non-EU Europe, 49,873 MW (over 100 Huntlys) are currently planned. The all-regions totals make nonsense of the very idea of "global decarbonisation".
Even if you accept that human emissions of carbon dioxide will cause climatic calamities, these figures show that other nations' emissions are overwhelming ours — so our scant sacrifices will never assist the climate.
It is particularly interesting to compare these figures with those of the English-speaking world (UK, USA, Canada, Australia, New Zealand, Ireland). None under construction and none being planned. Is there something they put in the language in the Anglo-sphere? Or are they being out-foxed by cynical sophisticates from older language groups who better understand that words don't always mean what they say?
New Zealand (with Australia) is the biggest fall guy of all. Although richly endowed with coal, our local usage is dwindling and exports have almost dried up. Successive climate ministers have set deadlines on the use of Huntly and constantly whittled away its stockpile of coal.
Genesis directors abandon the reliability of coal
What about the nation?
The 2018 Genesis Energy annual report (pdf, 2.47 MB) reveals on page 14 that this major company has practically eliminated its previously precious stock of coal and in its eagerness to join the anti-coal craze will soon scrap several billion dollars worth of plant that just a couple of decades ago was paid for by the taxpayer. The annual report tells the shareholders (emphasis added):
Over the past decade Genesis has provided the greatest reduction in emissions from within the electricity sector. Genesis' share of electricity-related emissions has dropped from 59 per cent in 2008 to 44 per cent in 2017. We have reduced the coal stockpile by around 80 per cent within the last decade and have retired half of Huntly's 1,000 megawatt coal-fired capacity.
They make that sound like a good thing, but the reality is that, in a dry year, Huntly can no longer keep the lights on without emergency imports of coal. Whatever quantity is required in a dry year, we certainly shouldn't import coal when New Zealand sits on enough to keep us going for about 7000 years 1. What's wrong with letting a dry season's worth of coal just sit there for the good of the nation?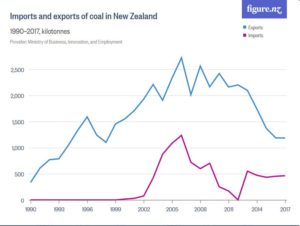 We know that burning coal in a modern, clean, soot-free, pollution-free furnace with flue scrubbers produces the cleanest emissions in history, but the MfE says they must now be called "dirty" just because they think carbon dioxide causes global warming. But calling it dirty doesn't make it dirty. The MBIE lists 18 producing coal mines at the end of 2017, which together produce something over 2,800,000 tonnes of coal. We produce somewhat more than this, as there are four more "private" coal mines whose production is "confidential".
Our main use of coal, not surprisingly, is to provide heat for various purposes. Our coal exports have been declining, about halved in 12 years, so we export about 1,200,000 tonnes, close to half our production (43%).
Honestly, that's so third-world
Those 35 nations (28 EU member states and 7 others) mentioned in the table above either operate or have plans to build 5600 coal-fired power plants. It would be very wise for NZ to keep just one to prevent blackouts in a dry year when our lakes get low, at least until some of the planned gas generators listed below are actually online. Keeping the lights on is vital, regardless of the cost: so we need at least one large, reliable generator that doesn't stop just because the sun sets, the wind dies down or it doesn't rain! (So third-world!)
It's hard to be certain, but it seems the industry itself is shutting down the coal-fired generators, apparently preferring the lower CO2 emissions of gas. The government encourages this, but perhaps it's more of a plain financial response to the ETS—in which case it reveals the deep stupidity of the ETS. We need the lights on all of the time. We will not save the planet in the dark or stricken with poverty.
This opposition to coal ("keep it in the hole") is driven by the Greens' hatred of industry, not by an aversion to CO2 emissions. If they were serious about CO2, they'd be campaigning for nuclear power, because that's the only practicable source of electricity that's both affordable and carbon dioxide-free. Every other option either causes more emissions, is more expensive or is simply too unreliable for the needs of a modern economy. Even Germany, until recently the darling of Greens everywhere, is planning more coal-fired power stations to maintain security of supply and Canada plans to shut down its remaining 15 plants by taxing them to death — all this to "save the planet".
Nothing to stop
Watch what happens when coal usage either declines to practically nothing or the hate campaign fails to put a dent in it: the Greens will attack some other aspect of industry, because their campaign has nothing to do with global warming—after all, with no significant warming for at least two decades, there's nothing to stop, is there?
Let me demonstrate that. Here are the UAH tropospheric temperature anomalies at the end of October:

NZ thermal power plants with build consent

According to Wikipedia, the following planned thermal stations have been granted consent.
Orion New Zealand, Christchurch, two diesel-powered plants totalling 23 MW.
Nova Energy, Taranaki, a gas-powered plant of 100 MW.
Contact Energy, Otahuhu, a gas-powered plant of 400 MW.
Genesis Energy, Helensville, a gas-powered plant of 480 MW.
There are no new coal stations on the way, but diesel and gas are great fuels, and far more reliable than windmills. These total 1003 MW—a handsome addition to our fleet—though financial viability could be a problem, since this new capacity constitutes a lot more than the remaining 500 MW Huntly coal units waiting to be shut down.
New Zealand actually has a second major coal station of 112 MW, but it's fully integrated with the Glenbrook steel mill and unavailable to the general network. It burns coal or gas, making good use of surplus natural gas from the iron-making kilns.
For the last 70 years and more we've made excellent use of the fine resources nature gave us, but this coalition government has had its brain royally ruined by greenwashing and there are grave fears that unless our leaders open their eyes to the facts, this shangri-la in the South Pacific could be in for a horrid awakening.
---
Hits: 437
Dividing our proven reserves of coal (from GNS Science) by our total coal consumption in 2017.