Bryan Leyland, Consulting Engineer, warns of blackouts
Electricity wholesale prices on the spot market have averaged 25 cents/kWh (four times the normal 7 cents) for the last three weeks because the New Zealand power system is in an appalling state, with severe shortages of water, gas, coal and generating plant.
Why?
The generator managers failed to conserve hydro storage, the Pohokura offshore gas field shut down because of a technical problem, wind output has been low, not enough generators paid Genesis to hold sufficient coal on its stockpile and several key thermal generators are scheduled for overhaul.
The fuel shortage killed competition so the price has been a trade-off between greed and guilt.
Only a few weeks ago, the government received a report that said everything in the garden was lovely. It isn't. If it doesn't rain soon, we'll face rotating blackouts.
Most consumers won't take any action to reduce load because they are on a fixed price contract—there's no incentive for them. But they still can't escape the effects of the high prices. Next year electricity contract prices will probably increase by something like 2 cents/kWh because, in the long run, contract prices must always be greater than the average of spot prices. (A contract is an insurance policy for which you pay a premium over the average spot price.) Two cents is a major increase and the public will (correctly) conclude that the generators are profiting from the shortage that they largely caused.
Failure of the market
What should be happening right now is a public call for savings. But the politicians won't want to do this because it would leave egg on their faces. So they continue to pray for rain. If it rains, they might emerge relatively unscathed. If it doesn't they will probably lose the next election.
What all this reveals is the failure of the market to provide a reliable and economic supply. The reviewers got it wrong. We need a comprehensive review of all aspects of the system by people independent of the current (failed) market structure.
If you look at the thermal generation you will see how little gas is being burned. We are even running Whirinaki on diesel—it is our station of last resort.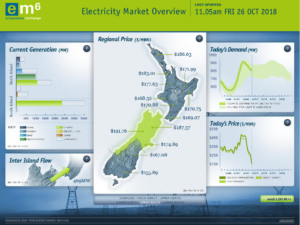 Hits: 504