Wikipedia: Simon is a common name, from Hebrew שִׁמְעוֹן Šimʻôn, meaning "listen".
Listen, Simon.
Two weeks back Simon said the following and I was just too busy to respond. He makes what may seem obvious and sensible points but simply regurgitates the great global warming myths which by now have been so utterly proven false that they are pathetic. However, not all our bystanders know this, so I shall do it again. Simon makes nine separate points:
Carbon neutrality does not mean banning burning of hydrocarbons.
We are not naive, Simon, and neither should you be. There are plenty of activists telling you otherwise. James Shaw, Greens co-leader, says the banning of future offshore oil and gas exploration marks "the beginning of a new and exciting future for Aotearoa New Zealand," the Coal Action Network tells us to "Leave it in the hole," Greenpeace is right now defending a criminal charge after dangerously interfering at sea with a marine survey vessel, and the Guardian was lamenting four years ago that "… leaving fuel in the ground is the crux of the issue." And that's only a minute portion of the anti-hydrocarbon screaming. The activists are inflexible about the danger of hydrocarbons, so you cannot claim that you'd be content if we simply made do with less. You lot want to shut down our use of hydrocarbons. It's perfectly plain, from the Prime Minister down.
The greenhouse effect is well understood.
Perhaps, and because it causes floods we should battle to stop the rain? We quantify potential risks to learn whether it's a problem. Establishment climate scientists haven't taken the quantification of climate sensitivity very seriously, so the range of temperatures they suggest is enormous. Which fits the climate scare tactics but leaves us with no clear target for adaptation. So quantify it.
Temperatures will continue to increase with atmospheric greenhouse gas concentration.
Again, what about quantifying that? The truth reveals the perfect harmlessness of increasing CO2. This graph of temperature response that I republish yet again shows how little the temperature rises with rising CO2. Try to grasp it this time.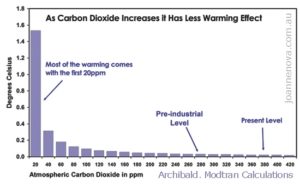 The cost of adaptation exceeds the cost of mitigation.
This is a fairy story, since hydrocarbons are the densest, cheapest and most convenient energy source available, so any change to "renewables" involves higher costs, unless we get serious about nuclear power. Still, just in case it's true, justify your assertion: again, it means quantifying.
Net zero greenhouse gas emissions has to occur at some point.
Why? Mother Nature will never stop turning over CO2, she needs it. Our accumulated contribution to CO2 is less than 6%, after about 150 years.
There are no deceptions over temperature records.
There are plenty of overseas examples of deceptive practices, from NASA/GISS to the UEA, but we don't need to leave New Zealand to demonstrate this. Have a look at A Reanalysis of Long-Term Surface Air Temperature Trends in New Zealand by de Freitas, Dedekind and Brill. The abstract says: "Current New Zealand century-long climatology based on 1981 methods produces a trend of 0.91 °C per century. Our analysis, which uses updated measurement techniques and corrects for shelter-contaminated data, produces a trend of 0.28 °C per century." That's the latest peer-reviewed science that in four years has had no peer-reviewed reply.
If you truly believe there are no deceptions over temperature records, then you absolutely must explain why NIWA today trumpets on its website in denial of what you say:
NIWA's 'seven-station' temperature series uses temperature measurements from seven 'climate stations'. The locations were chosen because they provide a representative geographical spread across NZ and have reliable records dating back at least to the early 1900s. The linear trend in the annual average temperature over the period 1909 to 2016 is a warming of 1.02ºC (or a rate of 0.95ºC per 100 years).
Our premier climate institute completely ignores the peer-reviewed science and parades their own incorrect, wrongly calculated results for the national temperature record, even four years after the de Freitas paper!!
The IPCC does not misrepresent established climate science.
Yes, it does that frequently. An example. In 2005, for the AR4, it intended to claim in the name of Chris Landsea, a subject matter expert, that "global warming was likely to continue spurring more outbreaks of intense hurricane activity." They were wrong; Chris Landsea objected, Dr. Kevin Trenberth ignored him, so Chris resigned from participating in the AR4. Trenberth is still with the IPCC.
Temperature and sea levels are rising.
Some temperature increase over 40 years, lots of variability, most recently declining: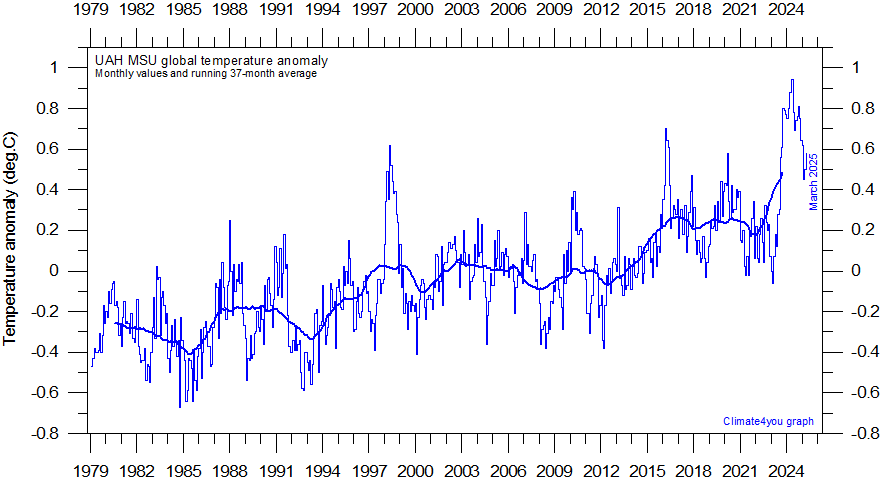 Sea level has been rising for a few hundred years but no recent acceleration: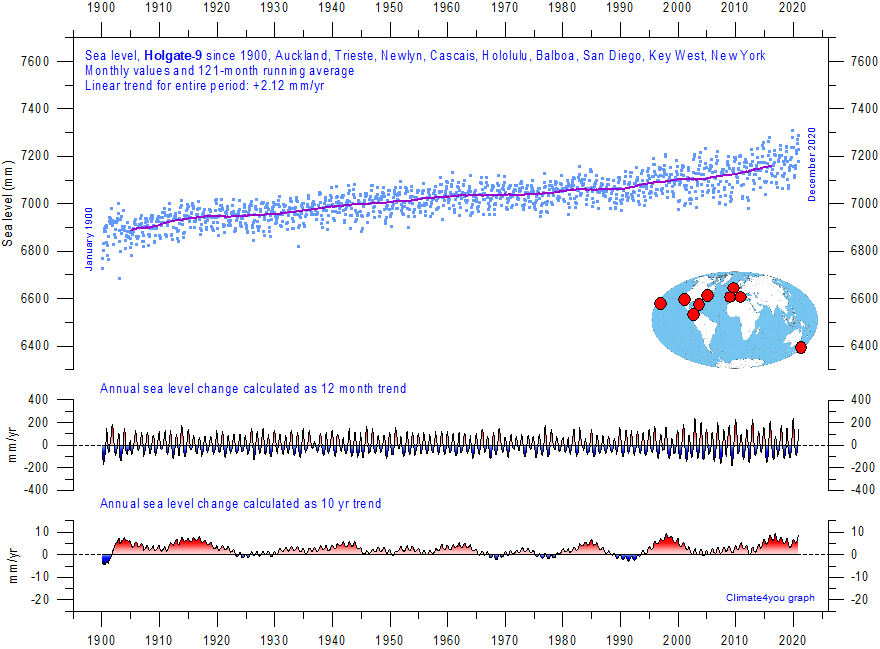 Anyone who denies these facts is, by definition, a 'denier'.
Yes, but I don't agree with your assertions, as I show. You must agree that affirming a different truth necessitates denying the lie.
One thing further: nothing in my response could be construed as insulting, but there you go again insulting me.
Hits: 353