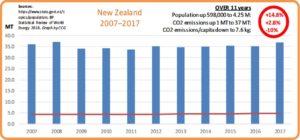 Here is a curious thing.
Since 2007 our population has risen by what seems a healthy 14.8%, our emissions of carbon dioxide are out of step in rising only by 2.8% and our per capita emissions have fallen by 10%.
Our energy efficiency has improved.
Demonstrating leadership to the world is accomplished.
Trouble neither our farmers nor our poor.
Let commerce flourish.
Our poor will be poorer should we fail to flourish.
Trust our farmers to retain their hard-won efficiency.
Let energy prices fall where they will.
Let energy be found when we need it.
Hits: 586