SEE UPDATE below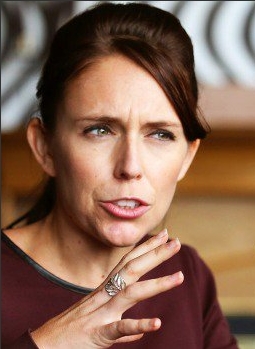 2 July, 2018
Dear Prime Minister,
I wish to register my disagreement with your decision to make us reduce our so-called "carbon" emissions to zero by 2050. You commit the nation to this significant goal without knowing, as your joint statement makes quite plain, what it means, how to achieve it or, extending by simple logic, what it might cause. That is unreasonable.

Attached is a pdf of a brief article I posted today at the Climate Conversation Group giving some reasons to question the wisdom of "fighting climate change" and obliging the nation to reach for an objective so breathtakingly scant.
The lack of science in your announcement and its fulsome references to mutual trust raises the distinct possibility of mistaking it for a decision of the Anglican synod.

You should know that the Royal Society recently refused to provide evidence of dangerous global warming caused by human activity. We must now ask what you know that they apparently do not.

You cannot, indeed, you must not tell Kiwis to do things without reason — you would bridle at that.

You should be aware that the CCG blog I operate receives considerable attention. It's been visited in the last six months over 280,000 times by over 130,000 visitors — at least 50% of those visits originated in New Zealand. That's over 1500 visits per day (by over 700 different people).

There is much opposition here to the notion that either carbon dioxide or human activities control the climate. People laugh.
With great respect,
Richard Treadgold
UPDATE 6 July
The PM's PA advised me the very next day that the responsible minister is James Shaw, whose PA in turn told me my letter had "been placed with" the great man himself. I am agog.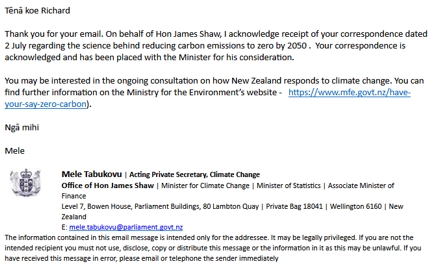 Tēnā koe Richard
Thank you for your email. On behalf of Hon James Shaw, I acknowledge receipt of your correspondence dated 2 July regarding the science behind reducing carbon emissions to zero by 2050 .  Your correspondence is acknowledged and has been placed with the Minister for his consideration.
You may be interested in the ongoing consultation on how New Zealand responds to climate change. You can find further information on the Ministry for the Environment's website –   https://www.mfe.govt.nz/have-your-say-zero-carbon).
Ngā mihi
Mele
Hits: 795