An editorial in the NZ Herald this morning made alarmist statements about climate change which the writer knew were wrong. If he did not know, he should have known.
By way of introduction, the writer referred to Hurricane Irma as
the biggest storm ever recorded in the mid-Atlantic
But it wasn't the biggest, not even close. It was 7th largest, tied with a 1928 hurricane: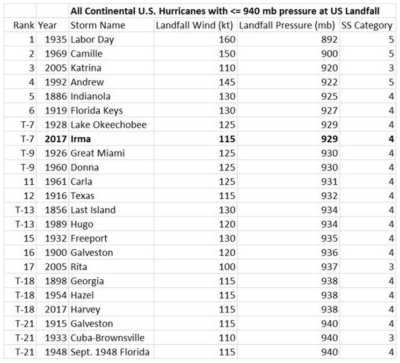 This disingenuous editorial then claimed:
Climate scientists were startled by the two destructive storms occurring so close together and speculated whether they were a worrying sign of a "new normal" in which extreme weather events become more intense as a result of man-made climate change.
Two so close together? They must have asked chemists what they thought of tropical storms; climate scientists know this stuff. This is the hurricane season, and they often come thick and fast while the water is so warm, that's what drives them. But this writer fails to tell us that for the last twelve years there's been a hurricane drought. No major hurricane has come ashore in the US for twelve years, an unprecedented lull that rebuts claims of more and more storms driven by man-made climate change.
Anyway, there were actually three storms happening together, see?
Irma was approaching Florida as Katia reached Mexico, and further out to sea was Jose, right now strengthening and turning north away from the Bahamas. This was not a unique occurrence. Three tropical storms arrive together about once every ten years, a predictable result of clear climate patterns, experts say. "Hurricanes aren't really a random phenomenon. They need conditions that are very conducive in order to form," said Gerry Bell, a lead seasonal hurricane forecaster with the National Oceanic and Atmospheric Administration's (NOAA) Climate Prediction Center.
The Herald leader writer was wrong again, but presses on.
What is indisputable is the physics: the storms packed punch because water surface temperatures in the region are high. Hurricanes draw energy and moisture from ocean heat.
Yay! This is true.
What is less clear is the extent to which rising greenhouse gas emissions are driving the extreme weather.
It's not only less clear, it's clouded to the point of murky. But note another insinuation that rising emissions really are at work here – we're just not sure how much. The truth is they cannot say that our emissions are having an effect. They're just guessing.
As to emissions increasing, even that is not so certain. The global emissions data from CDIAC show a mild rise from 1990, a slightly faster rise after 2002 but, since 2009, the rate of rise has been tailing off. Yes, they're rising, though some countries are declining while China, India and other developing countries are leaping ahead. The entire curve keeps awfully close to the perfectly straight trend line shown here:
Apparently, although "the scientists" aren't entirely sure about the extent to which our emissions affect the "extreme weather", they actually know we do affect it after all, because they agree governments must "urgently" reduce emissions and prepare for a warmer future and more disasters.
So, what's that evidence, again? Then we have an extraordinary assertion.

US experts have produced a report which the White House is sitting on. It concludes that evidence for climate change abounds, "from the top of the atmosphere to the depths of the ocean". The study reports that it is possible to attribute some extreme weather to climate change through the work of experts in the field known as "attribution science" which itself has advanced rapidly in response to events such as heat waves, intense rainstorms and coral reef destruction.

Amazing. Like casting chicken innards on the ground and reading them. Attribution, no matter how they try to spin it, is the act of saying this thing was caused by that thing. It's a human act, not a computer program, and an art, not a science. So yes, it's possible to "attribute some extreme weather to climate change". Of course it is. All you do is announce it. But saying it's been attributed doesn't mean it's true.
The writer casts the Trump administration as taking a view contrary to scientists, by saying:
This runs counter to claims by the Trump administration which take the view that the human contribution to climate change is uncertain, and that the ability to predict the effects is limited.
But, ironically, this is precisely what the IPCC says in every one of its reports. Amazing, that the Herald can accuse the Trump government of acting like IPCC scientists. Is that an honour or an insult?
Finally, the Herald refers to the Ministry for the Environment risk assessment report guide for local body coastal planning, quoting it on sea level rise.
Sea level rise is the most savage of the climate change monsters we're threatened with, but its legs are as shaky as those of all the other monsters. I'll point out there's been no increase in the steady rate of sea level rise for about a hundred years, so it had better get a move on or it'll be late for its own catastrophe. Lastly, the doomsayers mostly use the IPCC's most extreme scenario for these visions of apocalypse, and a brief examination will show that that scenario is unlikely to the point of magical.
I've run out of time to find the data I need, but you can have this and I'll revisit the sea level matter shortly.
Cheers.
Hits: 179