Desperation palpable
See UPDATE, below
Professors James Renwick and Tim Naish are sounding global warming warnings around the country. We have received a copy of their presentation, called Ten by Ten: Climate Change – Ten things you didn't know about climate change.
This academic presentation is filled with errors, though it's funded by the Victoria University of Wellington and the Royal Society—which means your taxes, at least in part. Just now I want to comment on one slide (No. 14) that appears to claim that almost all scientists believe that anthropogenic global warming is caused by mankind. This is the slide.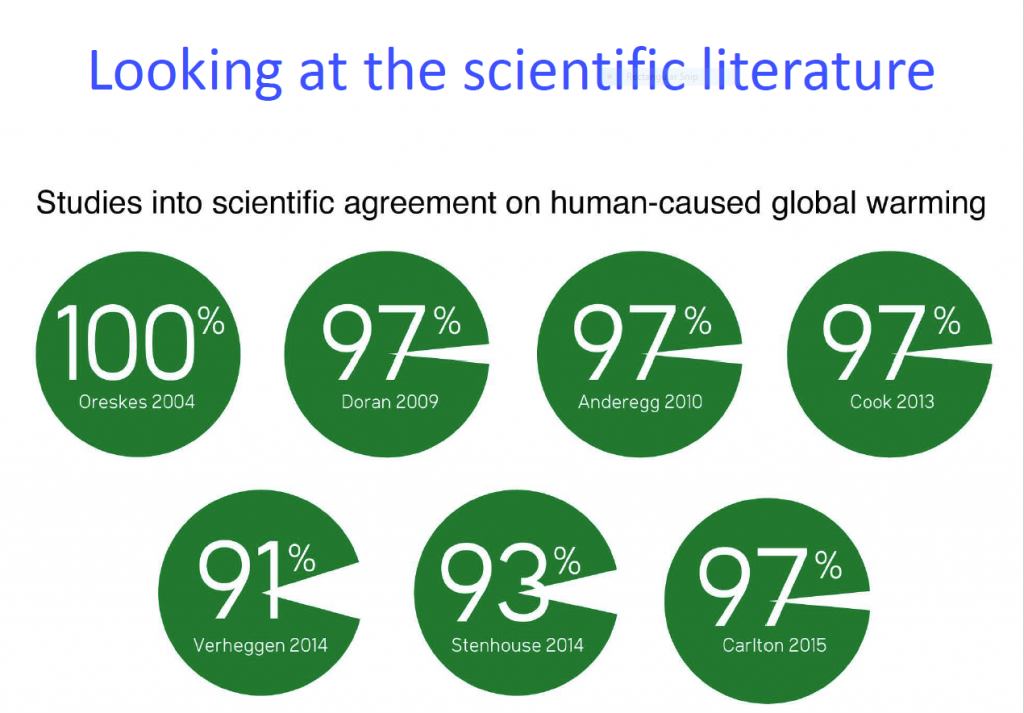 It illustrates the malignant "climate consensus" that poisons most popular discussion on climate policy. Mere disagreement of even thousands of people won't create warming if the temperature has been falling. It matters little whether they're scientists or not. But the very mention of a consensus inhibits the examination of evidence—and even armed with evidence it still takes a brave man to disagree with "97 per cent of scientists." So claiming a consensus, even if it doesn't exist, can be an effective ploy.
Of course, resorting to a consensus, even if it does exist, to win a scientific argument is erroneous. The late Michael Crichton said: "In science consensus is irrelevant. The greatest scientists in history are great precisely because they broke with the consensus." He was contemptuous that claiming a consensus could settle a scientific question: "There is no such thing as consensus science. If it's consensus, it isn't science. If it's science, it isn't consensus. Period."
Perfectly unpersuasive
For convenience and a kind of shorthand there may well arise a consensus on some scientific topic, and it often happens, but though the truth in science might create a consensus, no consensus ever established a scientific truth.
Professor Judith Curry quotes a post by Ben Pile which is further food for thought as we contemplate this crisis in climate science:
Being an advocate of science seems to mean nothing more than shouting as loudly as possible 'what science says…', second hand. And those who shout most loudly about science turn out to be advancing an idea of science which, rather than emphasising the scientific method, puts much more store — let's call it 'faith' — in scientific institutions. Hence, the emphasis on the weight, number and height of scientific evidence articles, and expertise, rather than on the process of testing competing theories.
This road-show presentation is, as I said, full of errors. But when I received it recently what stood out for me was that Professors Renwick and Naish cite a number of research papers that have been comprehensively invalidated. This is a major mistake. If they are unaware of the faults revealed in these papers by subsequent research then they cannot have been diligent. If they are aware of them, they should at the very least have mentioned that the papers are controversial. To present them to the lay public as good science is a perversion of their academic authority.
For these papers are scandalous.
The paper Quantifying the consensus on anthropogenic global warming in the scientific literature is the infamous study by John Cook et al. that is widely disparaged for its fatal and particularly egregious errors. It's hard to understand why anyone familiar with the paper would cite it or why anyone would cite it who was not familiar with it. Unless they were desperate for support and didn't care where they found it.
Surely no reputable academic would cite these studies. They purport to prove a consensus of almost all climate scientists but either use a weak definition of consensus that most would agree with or their samples of papers or survey respondents are unreasonably small.
For a solid analysis of Oreskes (2004) see Christopher Monckton (2007). Oreskes does not reveal how many papers explicitly endorsed her watered-down consensus, but subsequent research found that only 1% explicitly endorse that consensus—not 100%.
An excellent dissection of the execrable Cook et al. (2013), by Paul Homewood, is available at Not a lot of people know that. An earlier paper by David Legates et al. (2013) showed that Cook et al's claimed consensus of 97%, when measured correctly from their own data, was in fact only 0.3%.
This one slide we've discovered being foisted on amateur audiences around the country during yet another junket funded from your taxes would be enough on its own to dismiss Profs Renwick and Naish's specious arguments that we're destroying the climate and laugh them out of town.
Unfortunately this slide is just one of 49. Watch this space.
---
UPDATE 17 Jul 2016 1315 NZST
Here are the studies cited in the presentation that claim some level of consensus concerning climate science, with papers that contradict them (including the two references given above in the post). I've found some errors not mentioned in the original post, above.
Oreskes (2004) — 97% Consensus? No! Global warming math myths & social proofs, The Myth of the Climate Change '97%'
Doran (2009) — 97% Consensus? No! Global warming math myths & social proofs, The Myth of the Climate Change '97%'
Anderegg (2010) — 97% Consensus? No! Global warming math myths & social proofs, The Myth of the Climate Change '97%'
Cook (2013) — Climate Consensus and 'Misinformation': A Rejoinder to Agnotology, Scientific Consensus, and the Teaching and Learning of Climate Change, The Myth of the Climate Change '97%',
Verheggen (2014) — Authors and lead authors associated with the IPCC appear strongly represented in this sample, and they could reasonably be expected to believe strongly in dangerous man-made global warming, as it's the subject they're writing about, but whether that slants their results I don't know. It seems to be a high-quality paper. I've found no rebuttals.
Stenhouse (2014) — Surveys the American Meteorological Society (26% response) and provides a limited view.
Carlton (2015) — The climate change consensus extends beyond climate scientists. I've uncovered a curious error. The slide claims this demonstrates 97% "scientific agreement on human-caused global warming" but the paper doesn't say this. It actually says 96.66% answered Yes to:
Q4 Do you think human activity is a significant contributing factor in changing mean global temperatures" (Question displayed only if respondent thinks temperatures have risen).
But how many respondents think temperatures have risen? It's the answer to the previous question:
Q3 When compared with pre-1800's levels, do you think that mean global temperatures have generally risen, fallen, or remained relatively constant?
We find that 93.48% answered Yes, and you can calculate that 96.66% of 93.48 is 90%. So the paper provided the data for the correct calculation to be made but for some reason inflated the answer. The correct number of respondents was 90% but our road-show presenters incorrectly show 97%.
Professors are not allowed to make a mistake as large as 7%. Their skill with percentages is presumed to be perfect. I cannot avoid the impression they were trying to mislead us. Shame on you, sirs.
I have to say this list of papers is persuasive only by repetition of 97% and similar numbers because on close inspection their errors make each paper singularly unimpressive. More drab and humdrum than gripping.
Hits: 344