But what would it cost us?
via NZ Herald News.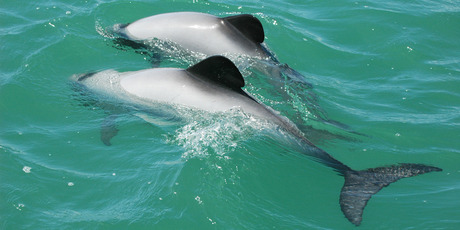 If readers have knowledge of the effects of this measure on the local fishing industry, please get in touch. Here's the entire Herald story (from APNZ):
New Zealand has voted against further protection measures for Maui's and Hector's dolphins at the world's largest conservation summit in Jeju, Korea.

New Zealand was one of two countries to oppose further protection measures in a secret vote at the International Union for Conservation of Nature's conference.

A vote was held on New Zealand banning gill and trawl nets in waters up to 100 metres deep – 117 countries and 459 organisations voted for the move.

New Zealand voted against, saying it was not backed by scientific evidence.

A Department of Conservation staff member told the congress the Ministry for Primary Industries had instructed it to vote that way.

DoC had not approved of the ministry's dolphin protection measures.

Green MP Gareth Hughes alongside other political parties and environmental groups have called the vote "outrageous".

"By voting against essential protection for the world's most endangered marine dolphin, the New Zealand government has acted shamefully and can no longer claim to be leaders in conservation," said Rebecca Bird, WWF's Marine Programme Manager.
Sounds shameful, right?
But hang about – what's it going to cost not to use gill nets or trawl nets in waters up to 328 feet deep? That's deep! How much fishing is done in that depth of water? Is that all around the coast, or just certain places?
How many fishermen will be put out of business, how many boats sold with their owners slung onto the unemployment benefit? How much fish will have to be imported into one of the most bountiful and efficient countries in the world?
Of course, the Greens expect us to pay whatever it costs to save even 24 of these mammals – or however many there are that survive. If they believed in evolution, they would recognise the bleeding obvious – these marine mammals haven't adapted to the present environment, or their population would not have collapsed.
We don't know better than Mother Nature – so we should let these creatures go.
Anyway – the measure passed, didn't it?
On the voting numbers, surely the measure was passed – was it, or wasn't it? Will it have any force without New Zealand's approval?
Shame on you, Gareth Hughes, you've slanted the picture – now tell us the whole truth.
And the Associated Press.
Hits: 412