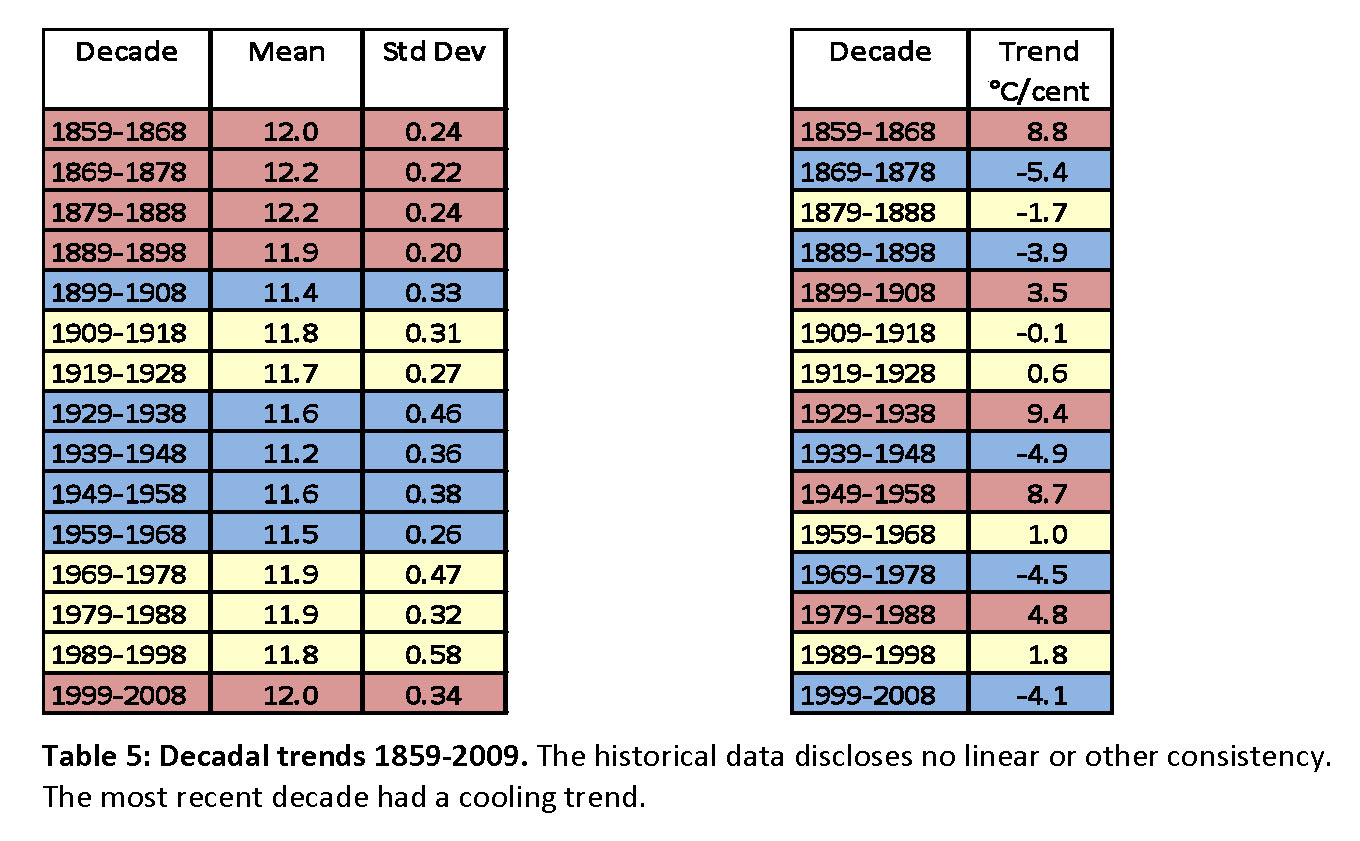 In July last year the NZ Climate Science Coalition published an independent analysis of NIWA's reconstruction of our national temperature record (NZTR) entitled New Zealand – Unaffected by Global Warming.
It's the only independent analysis carried out on the reconstruction (nobody else has bothered). As far as I know, nobody much has even read the report. So we need to tease out some of the details and start talking about them. They're a bit startling, considering the diet of alarm we've been getting from the news media for the last twenty years.
What would Kiwis do if they knew the facts of the country's temperature record? Would they demand the government ditch the ETS because there's no reason for it? Would they march on Parliament?
Because one of the insights from our expert analysis is that there's been neither unprecedented warming nor strong recent warming in New Zealand, despite claims of both from the alarmists. NIWA certainly supports the theories and policy recommendations of the IPCC, and so it seems to support the idea that we've experienced strong warming but, on its web site, says only: "NZ has warmed during the past century", which is very mild, considering the Royal Society want us to allow for up to half a metre or more (as I recall) of sea level rise by 2100.
But the details are revealing. Our analysis of NIWA's published data confirms that warming has occurred. But there was no real warming after about 1950. Table 5 on page 19 clearly shows this.
Our report says:
NIWA has relied upon 2000-10 being the warmest decade on record. But climate change concerns relate to temperature changes (i.e., warming), not to absolute temperature levels (i.e., warmth).

Table 5 shows New Zealand's historical average temperatures since the instrumental record began, divided by decade. The first group is coloured according to mean warmth, with the warmest in red and the coolest in blue. The second group is coloured according to warming trend.

Note that there has been no really significant trend since the 1950s, and that there has been a cooling trend since the turn of the century.
This analysis should come as no surprise, considering David Wratt has been at pains to assure us that New Zealand's exposure to global warming will be moderated by the dirty great ocean we live in. But still, it gives a totally different picture of the country's climate from the alarming one generally trotted out by the likes of Salinger, Renwick and the Royal Society, not to mention our Minister of Climate Change, Nick Smith.
But then, the Coalition did examine NIWA's data—maybe NIWA hasn't.
Hits: 68